William Shatner Was Briefly Booted From Google+ (Did He Post "The Transformed Man?")
With the rise of Google's new social network, Google+, a flock of celebrities has naturally gravitated towards the publicity and schmoozing opportunities. One among those, William Shatner, had his account deactivated by Google for unknown reasons. But Trekkies can sleep well tonight, as he has now returned to the young network.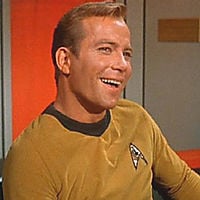 Shatner tweeted the following regarding his ban:
My Google+ account was flagged for violating standards. Saying hello to everyone apparently is against the rules maybe I should say goodbye?
Nobody really knows what got Shatner booted, but some have suspected that multiple people reporting the account as fake could have caused it. MSNBC asked Google to comment on the incident, and received the following response:
We don't comment on the status of an individual's Google+ profile, so I cannot provide any specific details on William Shatner's profile," said a Google spokeswoman. "But, you can visit our Help Center and User Content & Conduct Policy to better understand our policies around Google profiles.
We, however, would like to propose an alternate theory: Shatner must have posted clips from his 1968 album The Transformed Man (his Lucy in the Sky With Diamonds cover is priceless for all the wrong reasons), or the following spoken word rendition of Elton John's Rocket Man:
https://youtu.be/NN3MGN899yE?t=33s
via Digital Life

As an Amazon Associate I earn from qualifying purchases.