Win A Copy of Camtasia Studio 6.0 from GottaBeMobile.com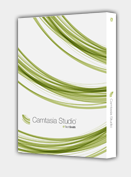 Techsmith has recently released the new version of their excellent screen recording software which we use all the time here at GottaBeMobile.com. Camtasia Studio 6.0 offers some exciting new features including:
HD-quality video for the web (new H.264-based format)
Independent audio & video editing
Time-saving hotkeys
Import and edit MOV files
3D tilt effect
Finer control over effects timing
Screencast.com preset for easy uploading
Rebuilt Recorder
Thanks to the good folks at TechSmith we've got two licenses to give away for two lucky GBM readers. So, here's your chance to snag a copy of Camtasia Studio 6.0 from GBM.
There are two ways to win your copy of Camtasia Studio 6.0
Produce a video (no more than 5 minutes) telling us how you would use Camtasia Studio 6.0. Post it up on your video service (YouTube, Blip, etc Preferably on a service and in a format that we can embed on the site when we announce the winners). Leave a comment to this post with a link to your video.
If you can't cobble together a video and Camtasia Studio 6.0 would be your way of doing so in the future, leave a text entry (no more than 300 words) in the comments to this post. Tell us what you how you would use Camtasia Studio 6.0.
We'll give away one license for a video entry and one license for a text entry. (You can't do both. Submit either a text or a video entry.) Entries must be posted by Midnight Mountain Standard time on Wednesday, November 19, 2008. We'll post up the winners on November 26.
Winners will be chosen randomly from all those entrants submitted by the deadline.
Good luck and have some fun.

As an Amazon Associate I earn from qualifying purchases.