Win A Samsung Q1 Ultra and Win Support For Your School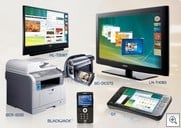 I hadn't seen this publicized until last night and since the contest started in April I find that a bit bizarre, so here's hoping we can get the word out more here.
Samsung and Microsoft are sponsoring a competition that can benefit the school of your choice and you. Here's the details: To enter the Samsung Hope For Education competition write a 100 word essay on "What is the single most significant benefit that technoloogy can provide in the classroom." The essays should focus on:
A single benefit or improvement to the educational process.

The specific types of technologies that will create this benefit.

The features of these technologies that create value in the educational process.
There are 62 prizes being awarded and the grand prize is $200,000 in Samsung technology and Microsoft Software to the school of your choice and $60,000 for 30 first prizes. The winning entrants for the grand and first prizes will receive a Q1 Ultra.
The competition is running through July 22, 2007.
Here's the link to the contest rules.
Here's the link to the contest site.
Thanks to Pocketables and The Tablet PC Education Blog for the info. Help get the word out folks!

As an Amazon Associate I earn from qualifying purchases.