Win a ScottEVest So You Can Wear All Your Gadgets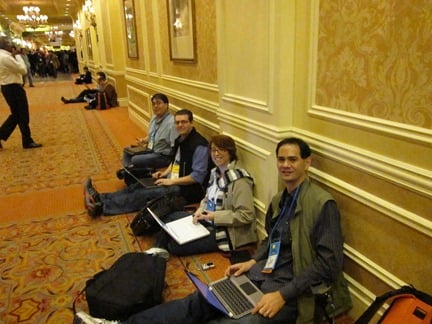 Our team members covering CES 2010 live from Las Vegas are all wearing various ScottEVests to carry and organize the piles of gadgets we're using this week. Sumocat and I are wearing the SeV Tropical Jacket/Vest, Amy is wearing the Ladies Essential Travel Jacket and Josh is wearing the Fleece 5.0. If you want your chance to wear your gadgets today's your lucky day. We're giving away a ScottEVest to one lucky Notebooks.com or GottaBeMobile reader. All you need to do is tell us which ScottEVest garment you'd like to win. To enter check out ScottEVest's online catalog and pick your favorite piece. Then go to Twitter and Tweet the name of the product and include both @scottevest, @gottabemobile, @notebooskcom and #SeVCES in your message.
For example "I want to win a @scottevest Fleece 5.0 #SeVCES from @notebookscom and @gottabemobile"
We'll draw a random winner on Friday night and notify the winner via Twitter. Be sure to follow us so we can send you a Direct Message if you're the winner. Please note that this giveaway is open to anyone in the world as long as it's legal in your locale. Yes, that means our readers in India, Europe, Japan and elsewhere that have asked for more global giveaways may enter. Good luck!