Windows 10 10049: What's New & Different 
Just last week Microsoft enthusiasts were figuratively climbing over each other to get their hands on Windows 10 10041. Like the versions of Windows 10 before it, the operating system upgrade included plenty of tweaks and new features designed to bring Windows into the modern age and put the civil war being fought between mouse and touch users to rest. Now we have Windows 10 10049 and it doesn't exactly aim to deliver that.
Windows 10 10049 isn't about striking a balance for users. It's singularly dedicated to Project Spartan or what some are calling the best new feature coming in Windows 10. Here's what's new and different in Windows 10 10049 and how you can get the latest versions of Windows 10 running on a spare notebook, desktop or Windows 2-in-1.
What's Changed – Internet Explorer and Project Spartan
For years, Internet Explorer has dominated any conversation about the internet or Microsoft. Like Windows 8.1, Internet Explorer is the poster child for what some see as Microsoft's inadequacies. First Microsoft used free copies of Internet Explorer to drown out the competition. Then development on the web browser seemed to stall and Microsoft focused less on being standards compliant and secure. Without getting too into how the web works too much, standards are how developers make sure that the sites they create work across as many screens and web browsers as possible. Bad standards support means developers have to work a lot harder to provide all users with a decent experience.
Other web browsers soon passed Internet Explorer by and the damage was done. Website developers didn't like the browser because they felt they always had to do extra work to make their websites behave correctly. Users didn't like Internet Explorer because its interface was too difficult to use and it sometimes broke websites that should have worked.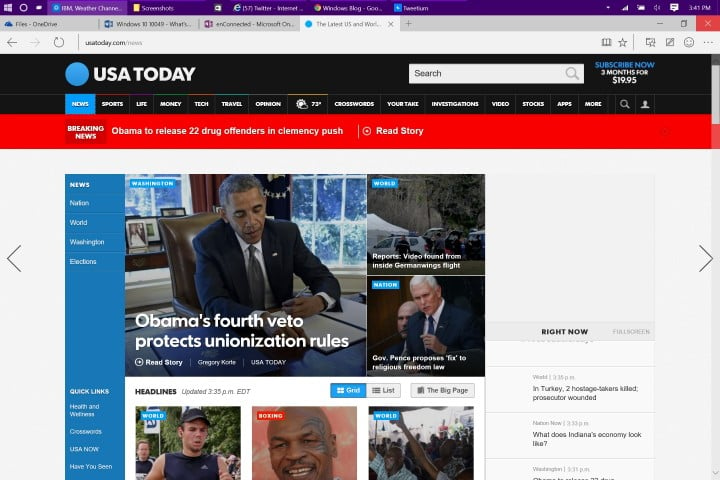 Over the years Microsoft added new features to Internet Explorer and added more standards compliant rendering. Then it seems the company realized that Internet Explorer was always going to be tainted by what happened in the early 2000s and late 1990s. This is where Project Spartan comes in.
In Windows 10 10049 Project Spartan isn't the default web browser, but it will be before Microsoft is done with the operating system. Project Spartan will work across notebooks, desktops and tablets. Internet Explorer will stick around, but only to past the torch, it seems.
Project Spartan – Interface
Project Spartan in Windows 10 10049 is sparse colorwise. A mixed pallet of white and gray means users can focus on the content they're looking at and less on the stuff around it. Tabs sit at the very top of Project Spartan like they do in Google's Chrome web browser. Below the tabs is a combined address and command bar. There are buttons here for going backward and forward, refreshing, favorting and some new features we'll get to in just a bit. A menu floats out from the far right of the app, hiding all essential settings.
Project Spartan – Features
Microsoft is currently in the midst of a torrid love affair with digital inking. The company wants users to be able to add notes and markup anything they want. Naturally, Project Spartan has stylus support and a dedicated note taking mode. When activated the entire interface glows a light purple to match Microsoft's OneNote application for taking notes. Microsoft calls these doodles and snippets Web Notes.
Today Reading List is an app that lets users save longform articles and more for a look later. Microsoft syncs anything added to the Reading List across devices and there are apps for Windows Phone too. The future of that standalone app is uncertain, because Project Spartan includes built-in Reading List support.
What's more, Microsoft makes it easier to catch up in longform pieces with a Reading View. Press the Reading View button and everything except for the actual text of the article disappears. It's a feature we've seen in other browsers before — like Internet Explorer for Windows Phone 8.1.
By default Project Spartan relegates favorites to a menu on the side of the screen. Long time fans of the Favorites bar can add it back by diving into the settings.
Window 10 10049: What's New & Different – Bug Fixes
Beyond the Project Spartan itself, Microsoft address some bugs with the taskbar not showing a Wi-Fi connection menu and the new Windows 10 lockscreen not behaving correctly. It has also stopped Windows apps appearing behind the Start Screen in Tablet Mode, which was a huge distraction.
Windows 10 10049: What's New & Different – How to Get It
Getting Windows 10 10049 and testing Project Spartan is pretty easy. Microsoft is making versions of the operating system available to any member of the Windows Insider Program. Joining is free, but beware of serious bugs and constant updates. For now, Windows 10 is definitely not something you want to go installing on your only computer.
Microsoft plans to release Windows 10 as free download for Windows 7 and Windows 8 users later this year.

This article may contain affiliate links. Click here for more details.