Windows 10 10061 Arrives with its Best Features Yet
Slowly, but surely Microsoft is putting the foot down on releases of Windows 10, it's free major operating system upgrade for notebooks, desktops, tablets and 2-in-1s coming later this year. Last night the company released Windows 10 10061, another rebuilt version of the operating system with a few tweaks, lots of polish and it's most exciting features yet.
Microsoft announced Windows 10 10061 would start rolling out to members of the Windows Insiders Program in a post on its Blogging Windows site. Technically, its considered Windows 10 Technical Preview Build 10061. Microsoft is releasing Technical Previews for enthusiasts and business users to try and provide feedback on. According to Microsoft, the massive amount of feedback it gets from Technical Previews allow the company to prioritize new features and rethink features that are already available.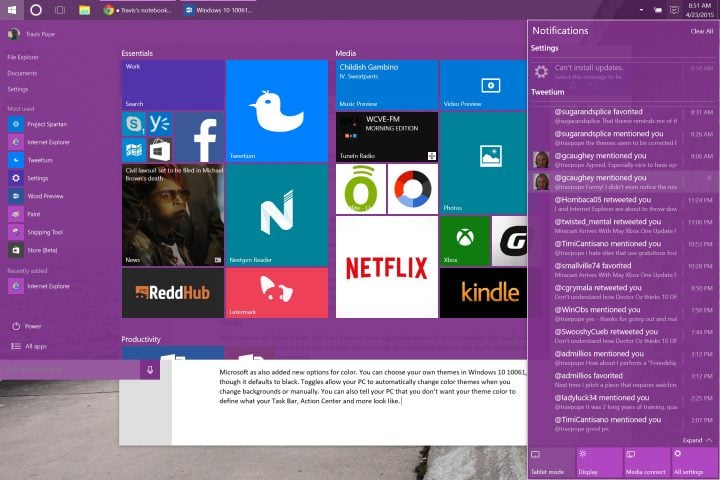 Read: Windows 10 Release Rumors Arrive
Windows 10 10061 includes a number of visual refinements, but it's the new apps that are getting all the attention. Previous builds of Windows 10 had new Camera, Calculator and Voice Recorder apps, but they were still stuffed full of apps originally designed with Windows 8.1 in mind.
Outlook Mail and Outlook Calendar are included in Windows 10 10061 and they are just as great as screenshots indicated they would be. Outlook Mail in particular is pretty feature packed and lets users quickly and easily triage incoming mail using gestures. That's something that was already available in the Outlook apps for Android and iPhone. Outlook Calendar has a redesigned interface and now lets users add Google Calendars. Google Calendar support was something sorely missing from past versions.
With Windows 8 Microsoft unleashed dedicated Windows apps for News, Travel, Sports, Health & Fitness and Weather. At first these were named Bing apps and available only on Windows and Windows Phone. Now they are called MSN apps and they're available on iPhone and Android too. News, Travel, Weather and Sports all have upgrades in Windows 10 10061.
Finally, there's the upgraded Xbox companion app that'll arrive in the Windows Store some time this week. According to a post on Xbox Newswire we can expect it to finally have many of the features Microsoft has been teasing since its January briefing.
Game DVR will be fully functional in Windows 10 10061, allowing users to record video clips and more using a new tool called the Game Bar. Users will be able to call up the Game Bar at any time by pressing the Windows key and G key on their keyboard. The Game Bar includes commands for video clips and pictures. Users can decide how long their videos are from the Xbox app's upgraded settings area. An impressive profile area is now available within the Xbox app too.
Tweaks in Windows 10 10061 include a new themes area inside the revamped Settings app that'll eventually displace the classic Control Panel. Windows 10 now lets users deck out the entire interface in a color of their choice. A toggle lets users choose between breaking out their color choices for the Action Center and Taskbar.
Icons on the Taskbar have gotten a visual overhaul too, and some things completely disappear in Touch Mode, making it easier on the eyes and fingers. You can adjust the size of the Start Menu when not in Touch Mode too, something that you couldn't do before. There are new transitions for just about everything, including the Start Menu and Task View screen that allows you to see every app you have open.
Read: What is Windows 10?
Getting Windows 10 10061 is as simple as signing up for the Windows Insider Program, though it's probably a bad idea for anyone looking for a casual upgrade to do so. Even in Windows 10 10061 there are some serious bugs. For example, so users might find that they can't launch most of their Desktop apps from the Start Screen or Start Menu. Microsoft plans to fix that soon.
Expect more news about Windows 10 during next week's BUILD 2015 event. Microsoft's keynote is scheduled for Wednesday, April 29th.

As an Amazon Associate I earn from qualifying purchases.