Windows 10 10061- What's New & Different
With it now spring in in the United Sates, Microsoft is quickly approaching the deadline it set for finishing Windows 10, its next major operating system for notebooks, tablets, desktops and 2-in-1s. Microsoft recently said it planned for the operating system to "launch" sometime this summer, and we're finally starting to see some evidence that this summer launch is still the plan.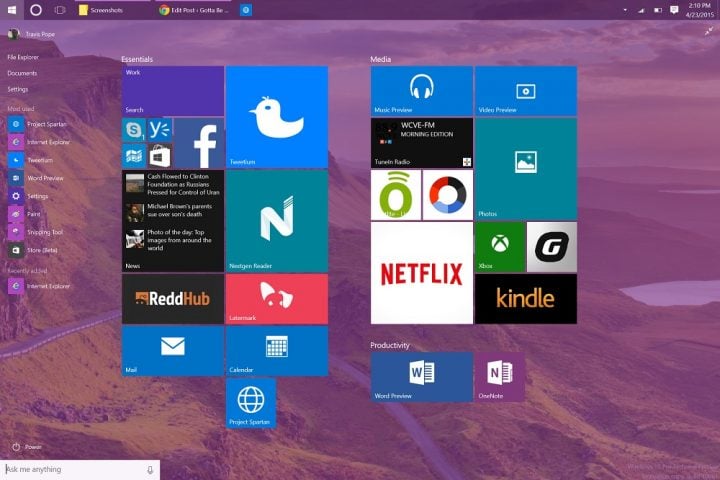 Microsoft announced Windows 10 10061 would be available to members of its Windows Insider Program last week. The latest version of Windows 10 comes stuffed full of new apps we all hoped would arrive before the operating systems became available to everyone for free. Small cosmetic changes now let you make the operating system more your own too.
Here's what's new and different in Windows 10 10061.
Lots of Apps
Past versions of Windows 10 had tons of new features, but also were weighed down by tons of old applications. You might have been running Windows 10, but the core of the experience – Music, Video, News and Mail were all from Windows 8.1. Seeing the two together only highlighted how awful some of those earlier experiences were and how far Microsoft is poised to leap.
Windows 10 10061 packs tons of new apps. These apps aren't just a new coat of paint. They adhere to the new Windows App principles. They're just as good with a mouse and keyboard as they are with touch. There's no horizontal scrolling to be found at all.
News, Weather, Travel & Sports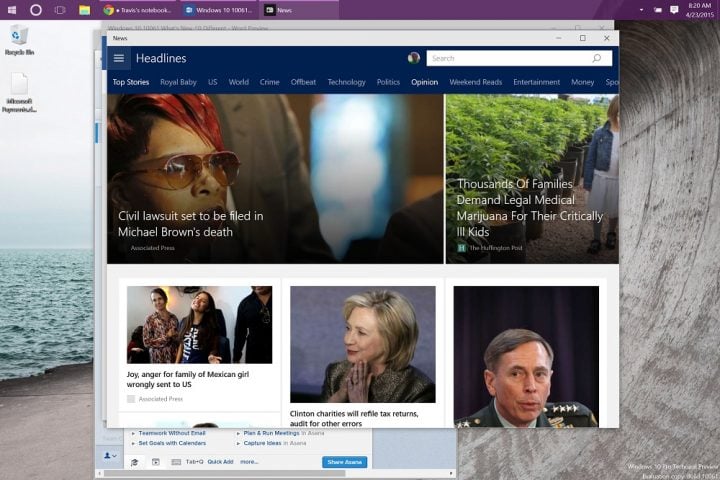 Microsoft launched its Bing apps on the iPhone and Android as MSN apps recently, but Windows users couldn't get in on the action. Microsoft changed the naming of those apps for Windows users, but they didn't adhere to new design principles.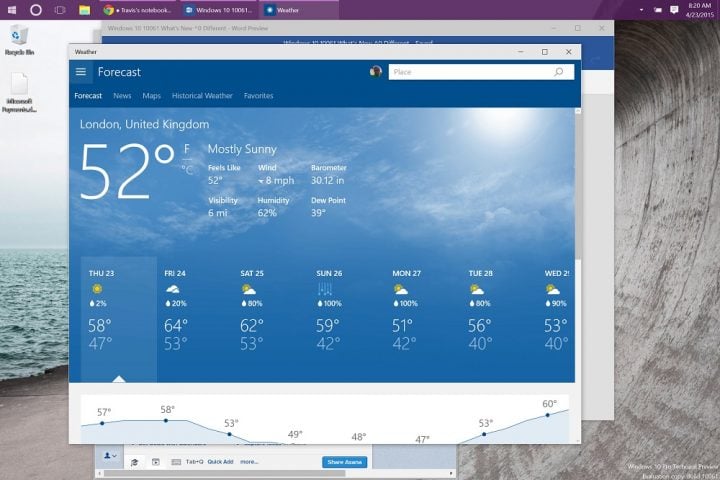 News, Weather, Weather, Travel & Sports are all-new in Windows 10 10061. Each uses a top-mounted navigation bar that lets users switch between different sections. There's a menu button for any feature that isn't necessarily relevant at any given moment. Of all the changes, the built-in search boxes in the right corner finally put an end to the ridiculous Charms Bar that had some users thinking Window 8 apps didn't even offer search.
In Windows 10 10061, Health & Fitness hasn't been updated just yet.
Outlook Mail and Outlook Calendar
It's simply not enough to deliver a passable email and calendar experience. These days, our entire lives are digital. We need to be able to manage those lives quickly and effectively. That's where these new Outlook Mail and Outlook Calendar apps come in. They are by far, the best thing about Windows 10 10061.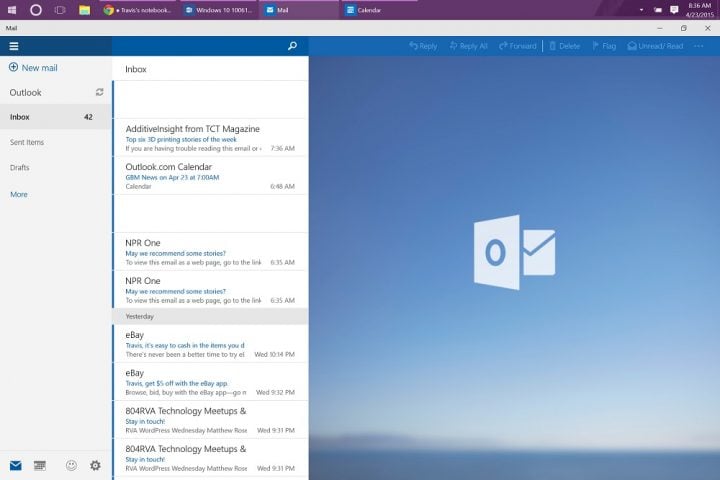 Both Outlook Mail and Outlook Calendar support Google Accounts, meaning you no longer have to jump through hopes to use Microsoft's default calendar experiences. Both apps have been rethought. There's an easy to use navigation on the left. Your calendar and other details sit on the right.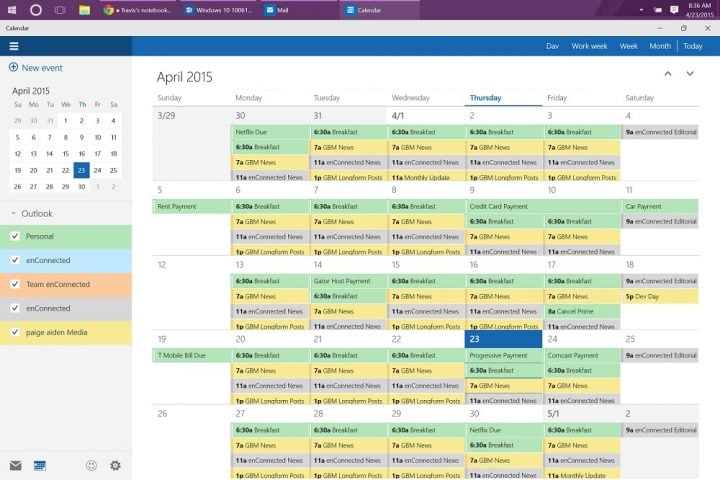 Mail has gestures that allows you to quickly archive or delete something. Those are very similar to what's available in the Outlook apps for Android and iPhone. Users can even set a custom Outlook Mail background for when they aren't using the Reading Pane to gawk at messages.
These apps are absolutely terrific.
Additionally, Microsoft has newer versions of its Music and Video apps in testing, but they're not included by default in this version.
Visuals
A lot of what Microsoft is doing with Windows 10 10061 amounts to polish. Past versions of Windows 10 offered a lot, but didn't look very good or feel up to Microsoft's visual standard. Sometimes they felt like a giant mess.
The icons in the Taskbar have been tweaked and updated. The button that lets users quickly switch into Task View, Microsoft's virtual desktop and app switching area, now looks flatter and cleaner. The tray buttons for Windows Defender, Wi-Fi and Volume all have upgrades.
Microsoft has managed to clean up transitions in a big way with Windows 10061. Switching into Tablet Mode or bringing up the Start Menu felt pretty nasty in previous builds. Now there's a nice drawer effect to make everything flow just a bit better. Task View and Virtual Desktops have their own transition too. They aren't always visible, but these transitions make a world of difference.
Tweaks
When outside of Tablet Mode, the Start Menu is now adjustable vertically or horizontally. Microsoft also moved the power button from the top-right corner of the Start Menu an Start Screen to the bottom-left, based on feedback it received.
Microsoft has also added new options for color. You can choose your own themes in Windows 10 10061, though it defaults to black. Toggles allow your PC to automatically change color themes when you change backgrounds or manually. You can also tell your PC that you don't want your theme color to define what your Task Bar, Action Center and more look like.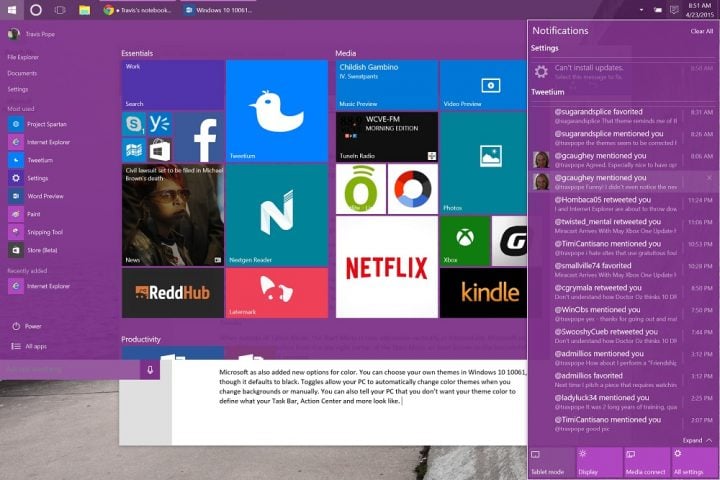 All told, Microsoft is slowly starting to get the operating system to where it needs to be. There's still a ton of changes that need to be made – especially to the look of the Action Center, Windows 10's notification area. Titlebars for apps seem due for a visual upgrade too.
Microsoft plans to let anyone with a computer running Windows 7 or Windows 8 upgrade to Windows 10 when its done. Presumably, we'll hear more about apps and features during Microsoft's BUILD 2015 conference beginning next Wednesday, April 29th.

As an Amazon Associate I earn from qualifying purchases.