Microsoft is unleashing another updated version of its Windows 10 operating system to members of the Windows Insider Program for testing and feedback. This time it's Windows 10 10074, and it's stuffed full of the small feature changes you'd expect leading up to the Windows 10 release sometime this summer.
Microsoft announced Windows 10 10074 in a post on Blogging Windows late yesterday afternoon, just as its executives were wrapping up presentations about Windows 10 at the BUILD 2015 developer conference.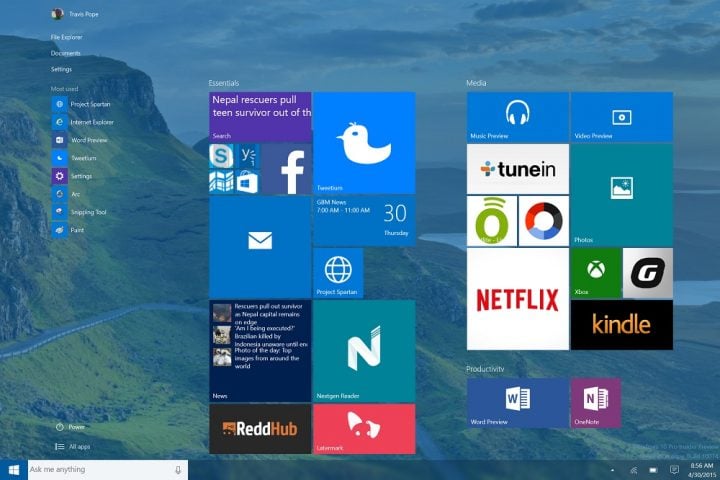 Read: How Microsoft Hopes to Lure You to Windows 10
Windows 10 10074 focuses on touch-ups and refinements. Microsoft is focusing on making general improvements to how Windows 10 feels and works. This version includes support for huge monitors and PCs with two or more monitors connected to them. In addition to better monitor support and scaling, Microsoft has added new animations for the Live Tiles that users can pin to the right side of their Start Menu or Start Screen. Previously, there was just a short of basic fade-in effect. In Windows 8.1, information simply slid-up on Live Tiles. Now when new information arrives, the Live Tile's surface simply rolls upward. It's a small change, but one something that Microsoft needed to do if it wanted Windows 10 to feel fresh and more modern than Windows 8.1.
As much as Windows 10 is about redefining Microsoft's future, there are a large number of users who seem to want to revisit the past. These users have asked for Microsoft to reintroduce the Aero Glass transparency effect that it offered in Windows 7 and Windows Vista. In Windows 10 10074 Microsoft is obliging those requests. Half of people who install Windows 10 10074 will get an Aero Glass effect on their Start Menu and Taskbar that looks like it was taken straight out of Windows 7. Microsoft is encouraging users who like what it describes as the "frosted glass" look to submit their thoughts using the Feedback app built into Windows 10 10071.
The TaskView area that allows users to see all of their open apps and switch between virtual desktops seems to have some updated animation. The Snap Assist system that auto suggests apps to resize to the side of your screen lets you close apps too, something that you couldn't do before. There are new default sounds for alerts and start up. When in Tablet Mode, Windows 10 10074 gets rid of pinned-Taskbar shortcuts. Users can adjust their screen brightness directly from the Battery Menu. There's also a toggle there for turning on Battery Saver, a way Windows 10 helps users eek out as much battery life from their dying device as they can.
Cortana, the personal assistant included with Windows 10, has a new look. She now takes over the entire right left edge of the screen. It's a far better design than the one Microsoft started out with earlier this year. Cortana can now check weather, convert units, get movie show times, flight status, act as a calculator and provide technical support.
Read: Windows 10 – 3 More Things to Know
Microsoft executives spent a large amount of time during their keynote talking about Windows apps, Windows 10 for phones and Windows Holographic.  A lot of that work isn't on display in Windows 10 10074, but some of it is. Windows 10 10074 contains updated Xbox, Music, and Video apps. The Xbox app's features aren't anything new for those who didn't already update their Xbox app in the previous Windows 10 release. Music now has a refreshed Now Playing experience. The Video app once again lets people download the television shows and movies that they purchased through the Xbox Video Store, which is now part of the Windows Store.
To get Windows 10 10074 you need to be a member of the Windows Insider Program, which you can join here. It's absolutely not ready for devices that are critical to work or your home life.

This article may contain affiliate links. Click here for more details.