Windows 10 10074 – What's New & Different 
Microsoft's Windows 10 operating system is finally starting to come together in a big way. In some ways, the Windows Insiders Program that allowed enthusiasts to test Windows 10 and its apps before release is both a blessing and a curse. It turns out developing a new version of Windows is messy, especially when you're trying to satisfy the needs of Windows 8 users and convince Windows 7 users that the free upgrade is worth downloading.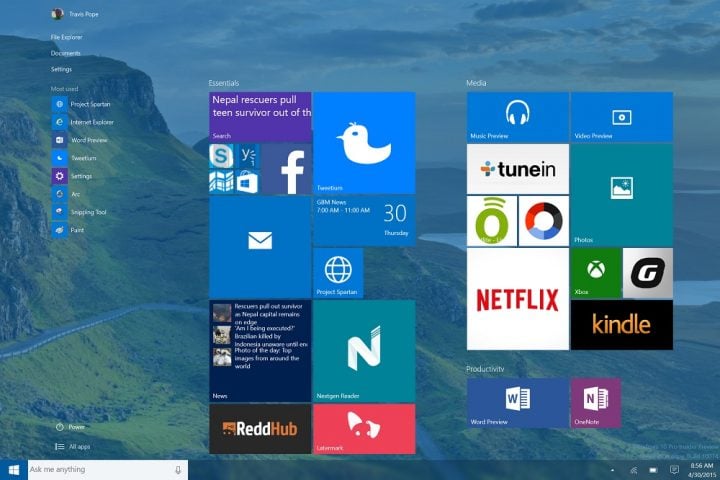 Read: What is Windows 10?
Windows 10 10074 is the latest version of the operating system to make it out to users. Microsoft isn't focusing on huge upgrades with this release. Overall, this update includes the lowest number of new features we've seen. Microsoft is clearly focusing on refining and refreshing what it already has available from past releases.
New Sounds and Sound Control
Windows 8 introduced the first big change to volume control in years. With that operating system you could raise or lower your device's volume directly from the Settings Charm that appeared when you placed your mouse cursor in the top-right corner of your screen or slid your finger left from the right edge.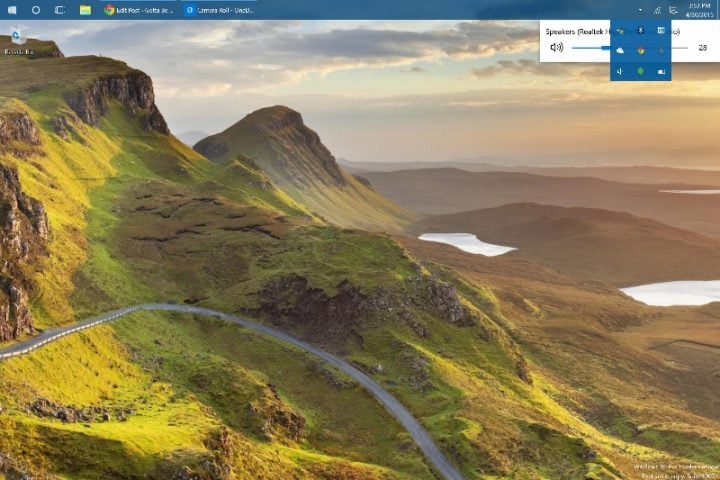 Microsoft killed off the Charms Bar for Windows 10, deciding that a hidden interface element that was crucial to everyday operations wasn't exactly a good idea. Volume control once again relies on the speaker icon that sits on the right side of the Taskbar. The sound pop-up that you get from that button has a visual overhaul to match the rest of Windows 10. It's also positioned horizontally instead of vertically.
When you log in to your PC it makes a sound. Adjust the volume slider does to. Windows 8 and Windows 8.1 used the same sounds from Windows 7, but Windows 10 10074 has its own sounds. Mostly, they seem borrowed from Windows Phones.
Cortana Redesigned & Integrated with the Start Menu
Cortana has been in every release of Windows 10 since January. The personal assistant, is capable of doing a lot of things like setting your reminders, looking for restaurants and information on the web. In previous versions of Windows 10 Cortana has a search box on the task bar that opens a drop down area.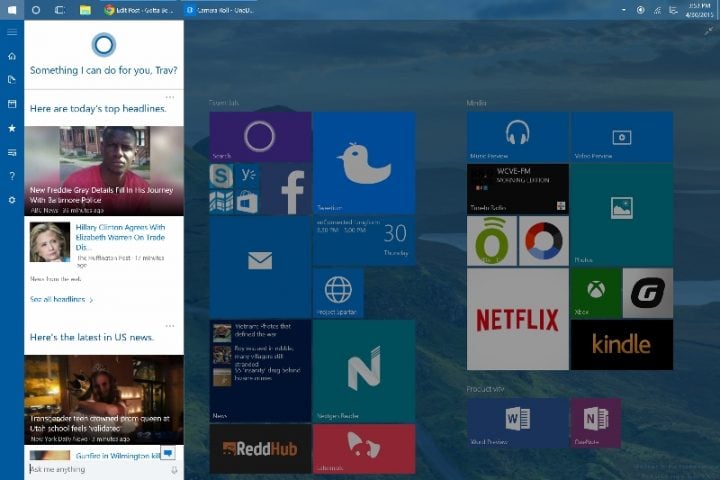 Windows 10 10074 still has that search box, but the drawer that it opens has been given a huge visual update. Options for Cortana aren't sitting in some menu anymore. Instead, those options sit along the left edge of your screen, letting you quickly add a reminder, figure out what song you're listening to and more.
Earlier versions of Windows 10 lacked the customization that Windows is known for. At first the Start Menu couldn't be resized when outside of Tablet Mode. You couldn't customize the color of the Start Menu or Start Screen. All of that is fixed and now Microsoft is adding a treat for those who aren't serious fans of the solid colors that now dominate Windows.
Some Windows 10 10074 users have an updated Start Menu and Taskbar that uses the same Aero glass background effect from previous versions of Windows. In short, you can see things sitting on your Desktop behind the Taskbar and Start Menu. Having this option on doesn't change the opaque nature of each app's Titlebar, but it's still a worthy compromise.
Update & Security area in the Settings App
The worst thing Microsoft did was introduce two distinct areas for users to change crucial settings. Windows 8.1 started the cleanup processing, adding in an updated Settings app design along with new settings imported from the Control Panel. Microsoft may have compromised some parts of its Windows vision, but the slow death of the Control Panel isn't one of them.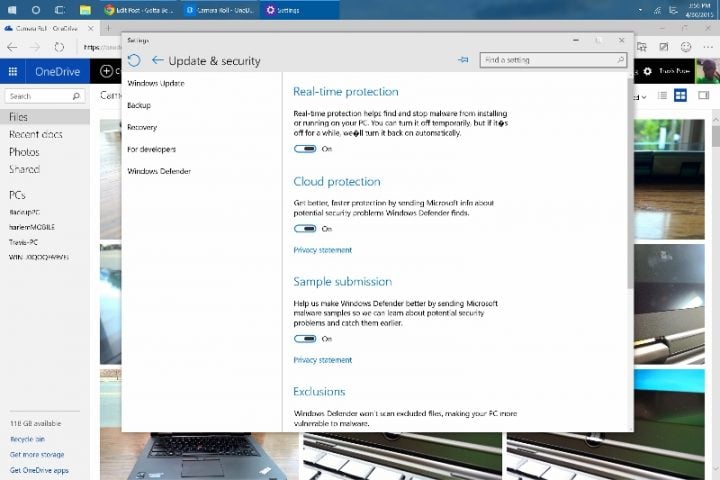 Windows 10 10074 continues the transition with new Settings for Windows Defender. Windows Defender is the built-in tool that Microsoft included in Windows 8 for virus and malware removal. The settings for controlling Windows Defender now set in the Update and Security area inside the Settings app. This change might seem basic, but it's not. Windows Defender has mostly sat outside of core Control Panel, forcing users to dive into yet another area just to manage it.
Other Tweaks
You can now close an app directly from the the Snap Assist area, that's the feature that auto suggests other apps you should keep on your screen when you're multitasking. Overall, the release feels more stable. The Start Menu doesn't immediately fail nearly as much as it did before. The Windows Store gain lets users download the movies and television shows that they purchase. Windows Store apps don't crash nearly as much as they did in previous releases, though Tablet Mode still has some performance issues when resizing apps.
Microsoft says it still has plans to launch Windows 10 as a free update for just about anyone running consumer versions of Windows 7 and Windows 8 sometime this summer. Microsoft has another version of Windows 10 planned too. It's called Windows 10 for Phones and its only for small tablets and phones. That version of Windows 10 didn't get an update this week.

This article may contain affiliate links. Click here for more details.