Windows 10 10158 Update Arrives Ahead of Release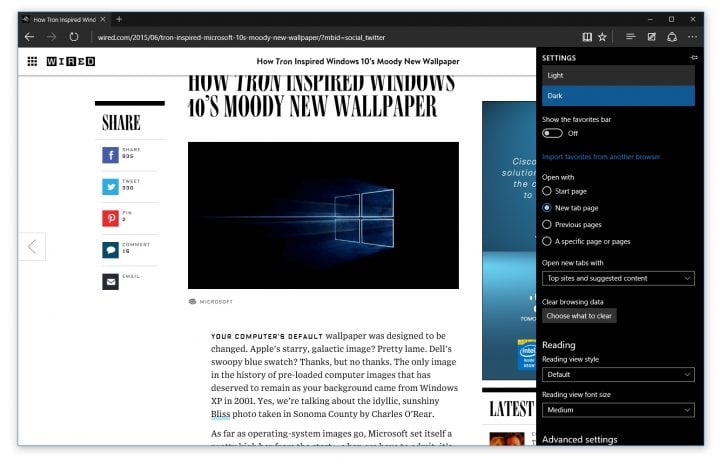 Microsoft's Windows 10 operating system is officially less than a month away from release and Microsoft is celebrating the occasion with Windows 10 10158, a new version of the operating system for members of its Windows Insiders Program with new features and crucial changes.
Microsoft announced Windows 10 10158 was rolling out to members of the Windows Insiders Program in a blog post late yesterday afternoon on its Blogging Windows site. All told, Windows 10 10158 focuses less on flashy new features and more on delivering the features and stability that Windows 7 and Windows 8 users will expect from the free upgrade.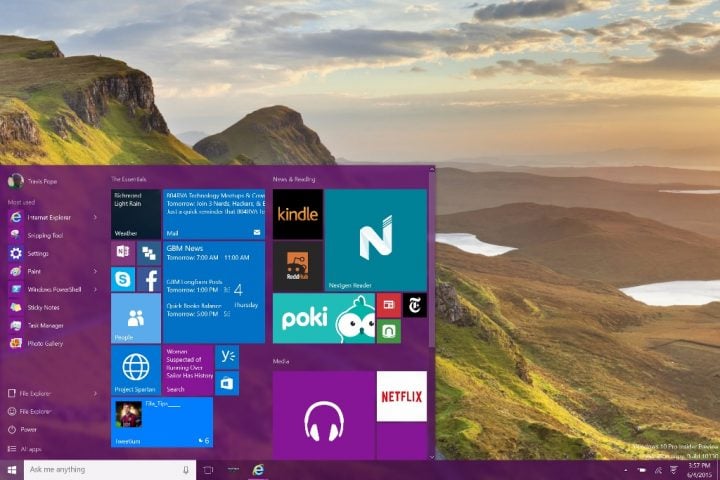 Of the notable improvements, Microsoft Edge in Windows 10 10158 is closer to being a full-fledged working piece of the Windows ecosystem. In Windows 10 10159 Microsoft has tweaked some performance issues and added a new dark theme to match the dark coloring of other apps made by Microsoft for Windows 10. To make migration to Microsoft Edge easier, Windows 10 10159 adds an importer for favorites. Taps can be moved in and out of different Microsoft Edge windows. Passwords can be saved and synced too. Microsoft has also added an optional Home button.
Read: 36 Epic Windows 10 Features to Upgrade For
Microsoft Edge already includes a dedicated Reading Mode for enjoying longform articles and a note taking mode for anyone using Windows 10 on a PC with a stylus. It is the primary browser for Windows 10, with Microsoft hoping that Internet Explorer will only being used for websites that absolutely need it for compatibility purposes.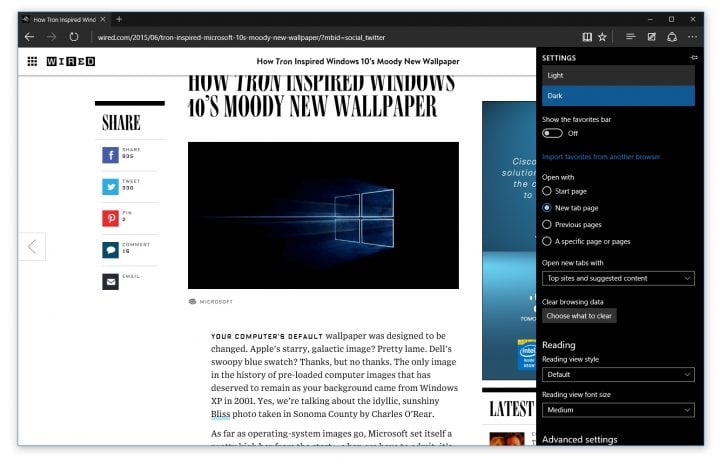 Cortana, Microsoft's personal assistant picks up a new design and a huge new feature in Windows 10 10158. In the final version of Windows 10 that goes out to users, Cortana will be able to send emails that are dictated to here. That experiences is in this version of Windows 10 for the first time. Microsoft says users will need an internet connection to get the feature working. For now, sending emails with Cortana is limited to the United States. Cortana also pulls down calendar and meeting information from Microsoft's Office 365 service for those who use it with Windows 10 10158
Tablet Mode is one of the completely new experiences for Windows 10. Inspired by both the Windows 8 Start Screen and the Windows 7 Start Menu, Tablet Mode gives users of 2-in-1s a fullscreen Start Screen, a universal back button on the Taskbar, and fullscreen apps. It also hides almost the unnecessary elements that tablet and touch users don't need. Microsoft says Windows 10 10158 has fixes for old Windows Programs and Windows Store apps. Swiping up on the left side of the Start Screen now opens a list containing every installed app too, something that wasn't there before.
The Snipping Tool now has a timer and the Photos app supports animated images, called GIFs. Some animations have gotten tweaks too.
All told, Windows 10 10158 feels more solid than anything we've seen from Microsoft since last fall. Previous versions of Windows 10 provided to members of the Windows Insiders Program suffered from performance issues and bugs, leaving some to speculate that the operating system might not be ready for launch. Releasing a completely stable version of Windows 10 by its self-imposed deadline now eems possible.
Windows 10 will arrive as a free update for notebook, desktop and tablet users on July 29th. Microsoft plans on offering the operating system as a free upgrade to anyone who has a PC running Windows 7 or Windows 8 free of charge. Windows Vista users will be able to upgrade too, but they'll have to pay for a digital download of the upgrade. Microsoft will only offer free upgrades to Windows 10 for a single year after release.

This article may contain affiliate links. Click here for more details.