Windows 10 9926: What's New & Different
Having been coy with its future plans for months, late last week Microsoft finally revealed Windows 10 9926, the first fresh build of Windows 10 we've seen in months. In most ways, Windows 10 9926 is the first version that marks a true departure from Windows 8.
Where past versions of Windows 10 looked more like Windows 8 and Windows 8.1, Windows 10 9926 feels more like a clean break. There are tons of new things to look at. There's a lot to experience. Microsoft is betting on users looking at all the new changes and providing feedback. This feedback will, Microsoft hopes, allow them to release a Windows 10 operating system that works well for as many people as possible. This is big as Microsoft is in the middle transforming Windows into a service that gives users updates over the lifespan of their device for free.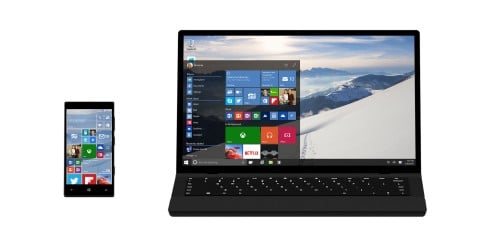 Read: Windows 10 Technical Preview 9926 Arrives
Here are some of the things in Windows 10 9926 that have caught the attention of users who've already put the update on their notebooks, desktops and tablets.
Tablet Mode
Microsoft spent a lot of time at last year's Windows 10 media briefing talking about Continuum. Until the release of Windows 10 9926, we'd never seen it in action outside of a keynote video though. Continuum is what Microsoft calls the user interface switching that is built into Windows 10. With Windows 8 the company tried putting the Start Screen on anything and everything. This worked out great for tablet users, and insured a dedicated group of notebook and tablet users would never upgrade to it.
Windows 10 rebuilds itself around the input methods you have. Surface Pro 3 users who detach their keyboards or fold them back are asked if they'd like to switch into Tablet Mode. If they say yes, the Start Screen returns and takes over their display. Every app becomes full screen too, with no borders to be seen. When users attach a keyboard they're asked if they want to switch out of Tablet Mode. If they say yes, every app appears with a title bar inside the Windows desktop. There's also a minimized Start Screen that looks more like the Start Menu from past versions of Windows.
It's worth noting that the Start Screen has lost some customization options in Windows 10 9926. Presumably, those will return over time. Microsoft says it is in the middle of rebuilding the Start Screen.
Action Center
How we ever managed to use any operating system without a centralized place to get notifications remains a mystery. Thankfully Windows 10 has an answer to the problem and it is called Action Center, just like on Windows Phone.
The Action Center is opened from a somewhat nondescript button on the Taskbar in the Desktop or a swipe from the right on devices with touch. Windows 10 dumps every notification your apps sends you into the Action Center along with quick access for settings. It's is an easy way for users to get at what matters most quickly.
If you've used Windows 8 or Windows 8.1 chances are you've swiped from the right of your screen to access the Charms Bar. The Action Center is available from that side now since Microsoft has killed off the Charms Bar in Windows 10 9926.
Upgraded Apps
Microsoft plans to unleash a new kind of app on the world with Windows 10 called Universal Apps. Universal apps will work on anything that runs Windows 10. We're talking smartphones, tablets, desktops, notebooks and even the Xbox One. In Windows 10 9926 we get our first look at a few of them. Photos is one of these Universal apps and it borrows heavily from the interface Xbox Music for Windows 8.1 pioneered. The new Xbox app, and Calculator is another one of these Universal Apps that are available today. Some users are reporting that there's a Universal App version of the OneNote note-taking app available too, though I wasn't able to find it unfortunately.
In all of these apps, Microsoft has smartly decided to kill off the biggest problem all users had with Windows 8: horizontal scrolling. Every option available on these new apps is available on-screen in some fashion.
New Taskbar and Cortana
Windows 10 9926 includes a colored Taskbar for the Desktop and Start Screen that adheres to users' preferences. New buttons include the Action Center button, the Task View button that was around in previous versions of Windows 10 and Search, a dedicated button that activates Cortana. Cortana is Windows 10's built-in personal assistant. She is also available in Windows 10 9926 for the first time. Users can also activate her by saying "Hey, Cortana."
Read: Cortana for Windows Phone is Everything the iPhone 5s' Sri Isn't
Upgraded Desktop Switching
The Task View debuted in an earlier version of Windows 10. It works like Expose' on the Mac, letting you see every app you have open. You can use the screen to quickly switch between different apps or create multiple Desktops to separate what you're working on. The Task View button is on the Taskbar for mouse and keyboard users and available with touch by swiping to the right from the left edge.
Read: Windows 10 Upgrade Guide: What You Need to Know
Overall, Windows 10 9926 adds a lot of new features and changes that users should love. In fact, it's so good that Microsoft might actually manage to convince Windows 7 users to upgrade. Microsoft says it plans to fine-tune the Cortana personal assistant and roll out more features and fixes in the upcoming months. Windows 10 won't be ready in final form until late in the year. When it's finished the company plans to let Windows 7 and Windows 8 users upgrade to it free for one year.

This article may contain affiliate links. Click here for more details.