Windows 10 Commercial Shares News of Free Upgrades
Just as it promised, Microsoft is rolling out its first Windows 10 commercial and spreading news of its free Windows 10 upgrades.
Microsoft introduced the first of its Windows 10 commercials in a post on its Blogging Windows website over the weekend. The commercial itself is called "Introducing Windows 10 – The Future Starts Now." It's a rather lengthy name for a video that lasts just a minute. Microsoft is calling its entire advertising campaign for Windows 10 "Upgrade Your World." Besides, ads the company has a series of world-wide launch events and charity initiative planned.
Introducing Windows 10 uses the promise of the next generation to push the new operating system. As faces of smiling children around the world flash on the screen, a voice says that these kids won't need to remember passwords or worry about security. It the notes that for these kids "every screen is meant to be touched and web pages are meant to be scribbled on." All of these are hints at some of Windows 10's most promising features. Windows Hello allows users to unlock their device without having to use a password or a PIN code. Windows 10 includes Microsoft Edge, a new browser built for touch and keyboard input that allows users to take notes on web pages and share them.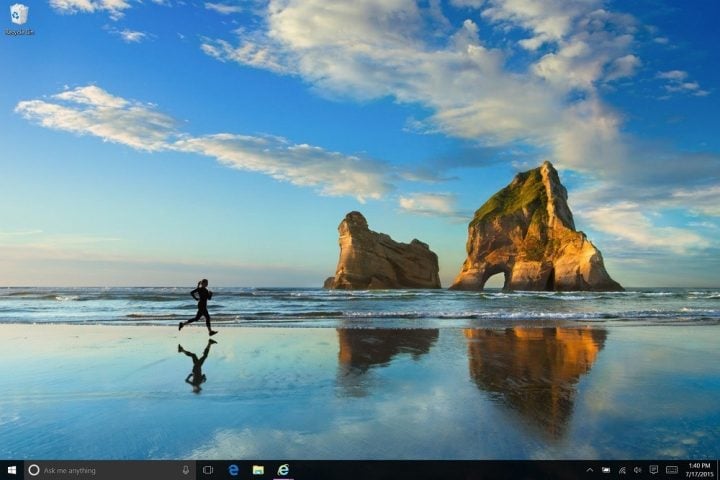 Read: 36 Epic Windows 10 Features to Upgrade For
The voice continues, noting that today's kids will expect their devices to "talk and listen to them and sing and tell a funny joke." The video says that these kids will do things their parents never dreamed of "because they're growing up with Windows 10." The video ends with another tagline, "a more human way to do." These too are hints at Windows 10 features. Cortana, Microsoft's personal assistant, takes voice commands and provides information directly from the Windows 10 search bar. She can also tell jokes, track the user's appointments and call an Uber.
Read: Should I Upgrade to Windows 10?
The tagline is almost certainly a reference to Microsoft reversing some of its most controversial changes from Windows 8. The Start Screen only surfaces if users are in Tablet Mode. All apps — even those downloaded from the Windows Store — run in the Desktop alongside other apps instead of taking over the screen. Whereas as Windows 10 forced everyone to make compromises for a decent touch experience, Windows 10 is better at keeping those changes contained on tablets in Windows 2-in-1s.
https://www.youtube.com/watch?v=Gu6vmNz-PhE&feature=player_embedded
Introducing Windows 10 is rolling out in the United States now and will gradually surface at media outlets around the world closer to Windows 10 release day on July 29th, according to today's blog post.
Upgrade Your World involves Microsoft donating to charitable organizations that support good causes. Microsoft is gifting a total of $10 million to 9 programs and letting customers vote on which charity becomes the 10th. Code.org, CARE, KEEP A CHILD ALIVE, MALALA Fund, Pencils of Promise, Save The Children, The Special Olympics, The Global Poverty Project and the Nature Conservancy are all included in the program already. Starting September 1st, Microsoft will allow users to nominate local organizations too.
Read: Windows 10 Upgrade from Vista Option Arrives
On July 29th Microsoft plans to let members of its Windows Insider Program download Windows 10 for free. From that point on the company will upgrade users who reserved a copy of Windows 10 in waves over the next few months. Only users with Windows 7 and Windows 8 will get free Windows 10 upgrades. Windows Vista users will need to purchase a boxed flash drive with the upgrade on it.

This article may contain affiliate links. Click here for more details.