Windows 10 Creators Update VR: What We Know
Just as they did with smartwatches, 4K displays and personal assistants, technology companies are now eager to battle each other to be at the forefront of a new trend in technology. Simply referred to as VR, or virtual reality, the devices and games that are making their way to store shelves all try to keep you immersed in your titles with the help of sensors and a headset. Until fairly recently, Microsoft was only a background player in this new area of tech; the HTC Vive and Oculus Rift VR rely on Windows-powered machines for gaming. That changed when the company revealed new Windows 10 Creators Update VR details this past October.
Arriving inside the Windows 10 Creators Update is an all-new layer of software to support VR devices. What's more, Microsoft is working directly with some of its hardware partners to create an exciting line-up of VR headsets that'll be cheaper than the current crop of devices. There's more too; the ridiculously powerful computers that VR headsets require today, won't be needed for any of this experience, Microsoft says.
Read: Windows 10 Creators Update: Everything You Need to Know
Microsoft's Windows 10 Creators Update VR strategy basically comes down to three points. Through its Windows Store, the company hopes to offer developers a simple, all-inclusive way to make their VR and AR games available across different form factors. At the same time, it's hoping to push the cost of VR headsets down so that more Windows users can afford them. Finally, it's betting that low hardware requirements for using a Windows 10 Creators Update VR headset will make everyone want to purchase one.
Windows 10 Creators Update VR: Augmented & Virtual Reality with Windows Store
For a long time, we've known that Microsoft was chasing augmented reality. Called AR for short, using sensors, augmented reality doesn't call for covering your face with a display and shutting out the real world. Instead, it blends with the world around you. Microsoft Hololens, for example, lets you experience Minecraft worlds on a table in front of you. This summer's most popular mobile game, Pokémon Go, uses augmented reality techniques to let Pokémon appear as if they're in the world around you.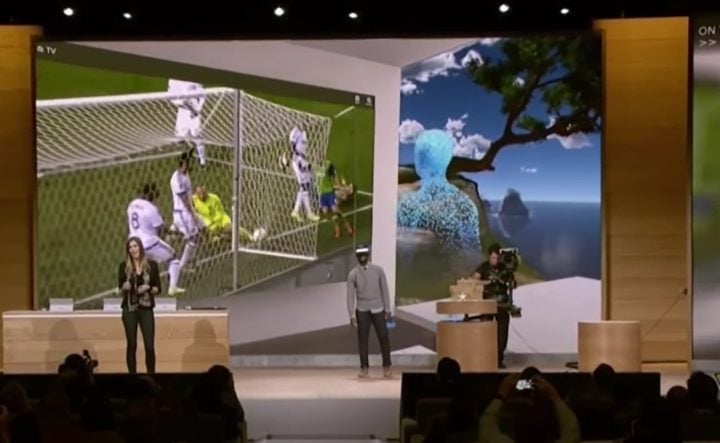 The virtual reality support that the Windows 10 Creators Update will boast was a complete surprise. Until then, Microsoft had barely talked about virtual reality at all. Whereas augmented reality lays holograms atop the real-world, virtual reality blocks out the real-world entirely. Minecraft is an excellent example of virtual reality too; the Samsung Gear VR headset has a version that immerses gamers. When users have the headset on, they look out at the world through their character's eyes.
Both augmented reality and virtual reality headsets will use a similar interface when connected to a Windows 10 device, it seems. The virtual reality demonstration at Microsoft's event included footage of a user being in a virtual room that they'd customized.
Windows 10 Creators Update VR: Cheaper Headsets with Sensors
The second part of Microsoft's Windows 10 Creators Update VR strategy will seem very familiar to anyone that's ever purchased a computer running Windows or a phone running Android.
Both Microsoft and Google rode to success over Apple by creating software that's used on devices made by others. Microsoft appears to be trying to replicate that feat with virtual reality. While HTC Vive, Oculus and PlayStation VR all depend on their specific ecosystems, Microsoft is teaming up with its hardware partners.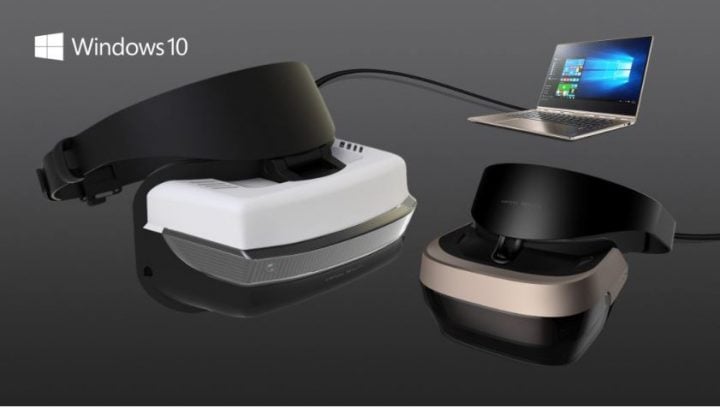 Asus, HP, Lenovo, Dell and Acer have all signed on to create virtual reality headsets, Microsoft confirms in a recent blog post about the Windows 10 Creators Update. To push down the cost of these headsets, Microsoft has created built-in sensors that allow users to move their heads, but don't rely on external sensors like more expensive options. The company says that these headsets will offer six degrees of movement. These headsets will begin at $299, far lower than the $500 that other PC-capable VR headsets start today.
Lenovo showed off a dedicated Windows 10 VR headset at CES 2017. While the company wasn't ready to confirm features or a launch date, it did say that it'd have the headset ready sometime in 2017. The company also showed off a content app that let its PCs add VR support to games that didn't offer it natively and a theatre movie watching experience.
Windows 10 Creators Update VR: Reasonably Priced PCs for VR Support
The cheaper headsets all play a big role in Microsoft's biggest weapon in its battle for virtual reality dominance: cheaper compatible Windows PCs. Today, you need a pretty beefy Windows PC with a discrete graphics card to use the Vive and Oculus Rift.
At the event, Microsoft referenced PCs that would be able to support these new VR headsets without breaking the bank. Apparently, even notebook PCs can power the Windows 10 Creators Update VR experience. Unfortunately, this is the most dubious part of Microsoft's claims. It offered no examples of devices that are out today that will support these headsets. It didn't reveal hardware requirements for the headsets to work either.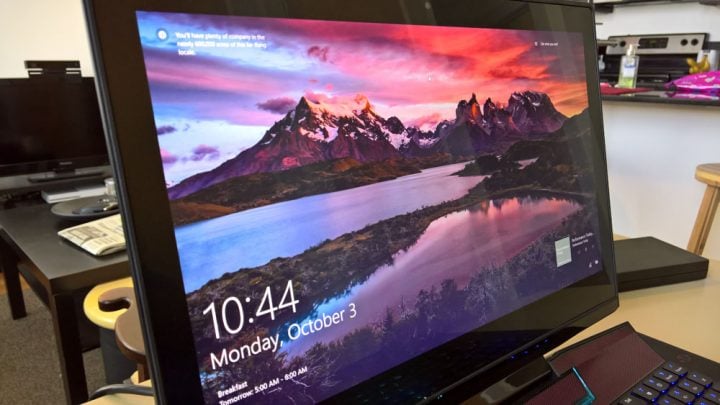 Read: All the Windows 10 Creators Update Features
It remains to be seen whether all of this will coalesce into a cohesive virtual reality and augmented reality ecosystem that users will actually want to buy into. Despite some success with mice, keyboards, Xbox and Surface, the company's hardware teams haven't been overwhelmingly successful in the devices department before. No doubt, Microsoft will have more to say about Windows 10 Creators Update VR features early next year.
The Windows 10 Creators Update will arrive as a free upgrade for every device running Windows 10 sometime in the spring.

As an Amazon Associate I earn from qualifying purchases.