Windows 10 on Surface Pro 3: Impressions & Problems
Microsoft says that the features set and design of its free Windows 10 upgrade was inspired by users themselves. According to the company, it was paramount that Microsoft take the innovations of Windows 8 and give them to users in a way that they could appreciate. Two of the Windows 10 upgrade's biggest features, windowed Store apps and the new Start Menu, owe their existence to this more balanced philosophy of introducing new features. Nowhere is the new balance Microsoft is trying to strike more apparent than when running Windows 10 on Surface Pro 3.
The Surface Pro 3 is Microsoft's flagship device and proof that it can foster new hardware categories like Apple. With Windows 8.1, Microsoft worked to create notebooks that could be tablets. Called Windows 2-in-1s, they were a great idea in need of better software. Windows 10 for Surface Pro 3 is here and mostly, it is impressive.
Windows 10 on Surface Pro 3: Features & Upgrades
The Surface Pro 3 best represents the idea of the Windows 2-in-1. Whereas most devices in the category or notebooks with adjustable screens for transforming into a tablet, the Surface Pro 3 is a 12-inch tablet with a kickstand and powerful Intel Core processor. Attach the $120 Surface Type Cover and it can be used like a notebook.
In Windows 8.1, connecting a Surface Type Cover lets you navigate the Surface Pro 3 with a touchpad and a physical keyboard. Swiping on the trackpad triggered the Charms Bar and multitasking. Swipe really hard and you'd go back to the last app you had open. Nothing about the software experience changed, for better or for worse.
The Surface Pro 3 and a new feature in Windows 10 called Continuum adds something new to this mix. When you add a Surface Type Cover, Windows 10 knows it and adapts what you get on-screen. With the Surface Type Cover locked in, Windows Store apps and programs downloaded over the internet become resizable windows, with a Start Menu in the bottom-left corner to match. Take the Surface Type Cover off and the Start Menu morphs into a Start Screen. Users can snap apps to the sides of the screen for multitasking and the Taskbar picks up a Back button and Search button.
Most PCs upgraded to Windows 10 will have to manually switch between these modes with a pop-up, but Microsoft already updated the Surface Pro 3 so that it can perform the switch automatically – with the user's permission.
Cortana comes to the Surface Pro 3 with the free Windows 10 upgrade. Anyone too tired of typing to Cortana can communicate with her using their voice – the Surface Pro 3 has decent a microphone that allows Cortana to always listen for a keyword, then take a command.
Read: Windows 10 Review – A Love Affair
Windows 10 is a massive upgrade in terms of apps and software. Microsoft hasn't upgraded its Surface app yet, but every other app in Windows 10 has serious improvements. The Camera for taking pictures with the two sensors on the Surface Pro 3 is easier to use, but still can't focus on specific areas in a picture because of hardware limitations.
Surface Pro 3 buyers never received from subscriptions of Microsoft Office like Surface 3 and Surface 2 buyers did, but Windows 10 adds new Office Mobile apps with reading support. Only devices with screens smaller than 10-inches get to create documents and presentations with these Office Mobile apps free of charge. The Surface Pro 3's 12-inch display far exceeds that threshold, unfortunately.
Outlook Calendar, Outlook Mail, People, Music and the Windows Store are all upgraded too. Microsoft Edge is Internet Explorer's replacement. Each one of these apps are great with touch or a mouse, therefore excellent for the Surface Pro 3.
Windows 10 on Surface Pro 3: Experience & Performance
Living with Windows 10 on the Surface Pro 3 is sometimes magical. Microsoft sold the Surface Pro 3 on the idea that users could "click in" a keyboard and extend their entertainment experience. Only now does that mantra make sense. Attaching my keyboard feels like pushing a "Be Productive" button. Upgraded apps make getting things done on the Surface Pro 3 more fluid.
The free Windows 10 upgrade also kills a few annoyances with the Surface Pro 3. Windows 8.1 had touchpad gestures that could be maddening – like switching to a previous app. Windows 10 kills these, opting to keep three finger gestures for scrolling. Touch gestures for multitasking are back, but each has an on-screen button too. Action Center, which comes in from the right edge of the Surface Pro 3, helps bring order to notifications and changing settings. TaskView, a screen for seeing what apps you have open, comes in from the left edge.
Read: 8 Real Windows 10 Problems & How to Fix Them
Outside of playing games, the Surface Pro 3 almost never turned on it's built-in fan for everyday apps with Windows 8.1. The same isn't true of Windows 10. On a few occasions early-on the Surface Pro 3's cooling system kicked in with nothing but Microsoft Word Mobile running. Sometimes I find that apps fail to resize correctly, forcing me to drag the app to the bottom of the screen to close. I've run into scaling issues with programs too.
My Surface Pro 3 power cable, Type Cover and Surface Arc Mouse all work fine in Windows 10. The included Surface Pen still lets me draw and take notes, but doesn't unlock the Surface when you click the pen-top as it once did. Since Windows 10 launched Microsoft has released a few updates to OneNote, but this feature remains broken in my upgrade. It's a shame; the Surface Pen is a big reason I decided to purchase the Surface Pro 3.
At first, Windows 10 on the Surface Pro 3 was a bug-ridden mess, but Microsoft has cleaned it up in recent weeks with dozens of what it calls Cumulative Updates. Performance has improved and app crashes are rarer. New firmware issued earlier this week also fixed some maddening Wi-Fi and Bluetooth drop-outs. The only consistent issues I'm noting now are related to Cortana not being as responsive as she should be.
Windows 10 on Surface Pro 3: Should You Install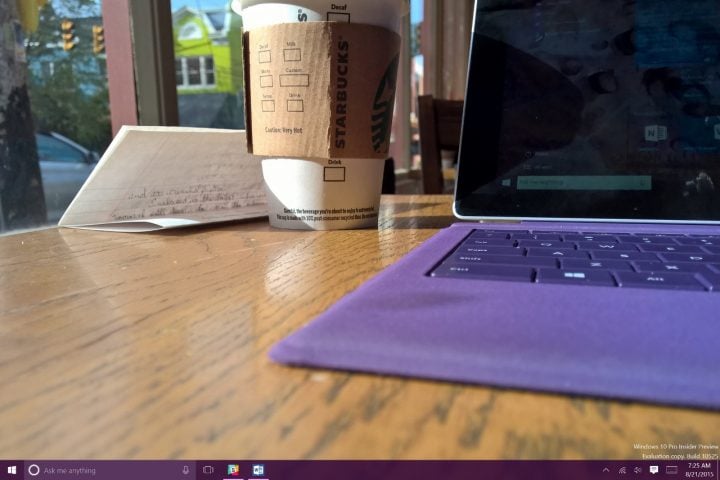 Microsoft released two cumulative updates to Windows 10 in recent weeks. Had they not, I would have encouraged Surface Pro 3 users to wait on the upgrade.
As it stands now, Windows 10 on Surface Pro 3 is pretty stable. I haven't run into any compatibility issues. I value the changes Windows 10 adds to the Surface Pro 3. You should install the Windows 10 on your Surface Pro 3, but keep your system ready to go back to Windows 8.1 if something goes wrong.

As an Amazon Associate I earn from qualifying purchases.