Windows 10 on Xbox One Rolling Out Now
After prepping gamers lucky enough to make into its Xbox One Preview Program earlier this week, Microsoft says that some users should starting getting the new Xbox One Experience based today. That's the same software update built on top the Windows 10 operating system that Microsoft announced back in June.
Microsoft announced that the New Xbox One Experience was going out to select users this morning on its Major Nelson blog. The New Xbox One Experience mostly ditches the current interface of the Xbox One in favor of updated visuals and a menu design that's very to similar to the Xbox 360's software. There are tons of functional upgrades too, like Microsoft's Cortana Personal Assistant. The software is rolling out in waves to Xbox Preview Program members over "the next week."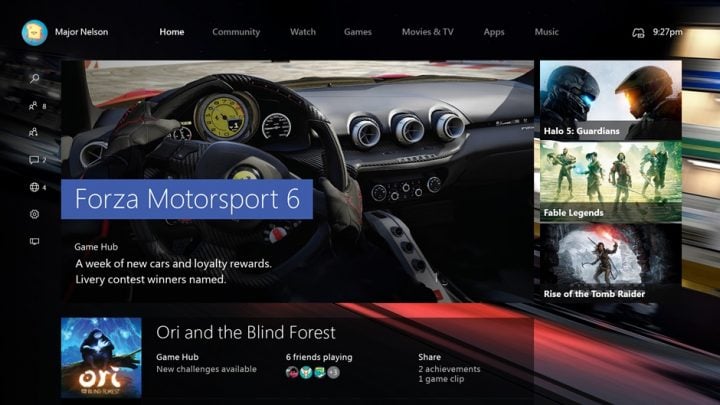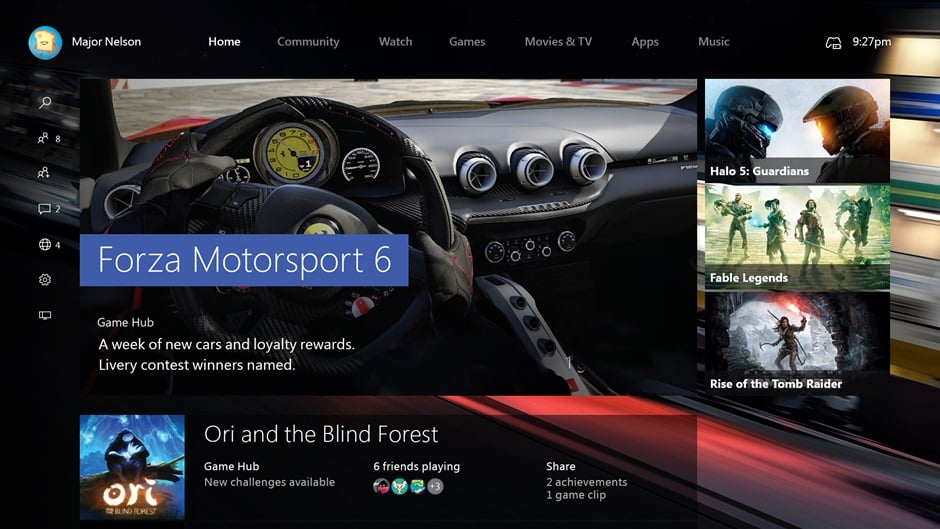 The current plan is for the New Xbox One Experience to roll out to all Xbox One users in November, just in time for the holiday buying season. To be clear, this new software is only built on top of Windows 10. Users won't suddenly be able to install programs and play PC games on their Xbox One after installing it.
Read: How to Get the New Xbox One Experience
In its post on the New Xbox Experience Microsoft notes some huge changes for the Xbox One's interface. Both the Xbox One and Xbox 360 rely heavily on horizontal scrolling. That's gone in the New Xbox One Experience. The Home screen provides a vertical list of games and activities the moment the Xbox One turns on. From this list users can see updates from a game's developer, which of their friends are playing a specific game and get a link directly to that game's Hub. All of this is in the current Xbox One software now, but buried within the Friends app. Pinned apps and a complete list of apps and games sit at the bottom of the Home screen for now.
Microsoft has refreshed the Guide, creating an interface that floats out from the right of the screen when they're in a game. The guide includes a list of friends, party controls, notifications, messages, an option to snap an app and Settings. Which were pretty difficult to get to without a Kinect sensor before. The similar named OneGuide still provides access to apps, movies, streaming TV shows and Live TV, but it does so "easily," according to Microsoft.
Microsoft says it's worked to reduce the amount of time it takes to get to Game Hubs, Game DVR and Achievements. It even kills the dedicated Upload app that the Xbox One has had since its release in 2013.
Chances are that every Xbox One user who knows this software update is coming is excited for it. If the Xbox One has a big drawback today it's that the interface is ridiculously slow and incredibly segmented. Microsoft says that its used feedback and data gathered from real users to find pain points in today's experience. The Xbox One needs refreshed software to survive, especially since Sony's PS4 console is getting a pretty robust update of its own very soon.
Read: PS4 Update 3.0 Beta Release Date Arrives
Besides including Cortana, the new Xbox One Experience also brings with it Backward Compatibility. With Backward Compatibility Xbox 360 games can be played on Xbox One consoles. Microsoft is promising that hundreds of Xbox 360 games will be playable on the Xbox One when the new software launches later this year.
Getting the New Xbox One Experience now requires admission into the Xbox One Preview Program. Microsoft said it would slow down invitations to that program a few weeks ago.

This article may contain affiliate links. Click here for more details.