Windows 10 on Xbox One Sneak Peek Arrives
With it's slate of exclusive Xbox One games for 2015 and 2016 confirmed, Microsoft is talking more about the Windows 10 update coming later this year. It's also revealing a few must-have accessories for Xbox One owners and longtime fans.
Microsoft provided users with another brief look at the interface changes and features they can expect when and after Windows 10 launches on the Xbox One earlier today at Gamescom 2015. Gamescom 2015 is the yearly European video game tradeshow that mirror's America's own Electronic Entertainment Expo. Though this wasn't the first time we've seen Windows 10 on Xbox One, this is a more feature complete vision of what the company is planning for release this November.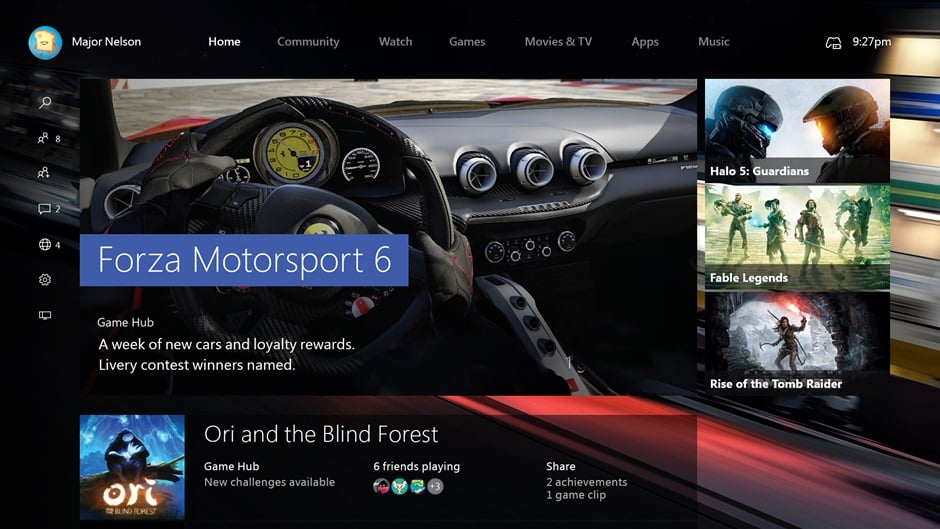 A post on Microsoft's Xbox Wire site reveals the details. The Xbox One home screen itself has been completely redesigned. Rather than putting the focus on a top navigation and forcing everyone to drill down into individual apps, Microsoft has come up with a hybrid approach. Along the top navigation set different categories identical to what was available on the Xbox 360. Home, Community, Watch Games, Movies & TV, Apps and Music have their own panels. For now, there's no specific Store tab. Flanking the top navigation is a constant update on controller battery power and the current time.
The navigation on the far left offers Xbox Live search, Friends, Messages, Activity Alerts, Settings and app snapping. Apps will now apparently snap to the left side of user's screen instead of the right. That could be a sticking point for some, but it shouldn't effect overall functionality one bit. The Xbox One allows users to multitask by snapping an app to the side of their screen even when they are playing a game.
The center of panel of today's released Windows on Xbox One screenshot is the most telling. Rather than linking to individual games and promotions. Microsoft is directly integrating Game Hubs into the experience. In the center there's a link to the Forza Motorsport 6 Game Hub. Below that is a link to Ori and The Blind Forest's Game Hub. Microsoft appears to be trying to put the focus on the gaming community itself rather than just the titles and any on-going sales. Game Hubs are already available on the Xbox One, but they are a bit hard to find. They're an excellent way to get details about a game directly from the developer.
In the Community area Microsoft will focus on the Activity Feed and the titles that are trending at that particular moment. Watch will put the focus on the different App Channels that now live within the Xbox OneGuide. App Channels provide quick access to YouTube videos and other content without first diving into the app. OneGuide itself will get picture-in-picture viewing when users are browsing for more shows.
On stage Microsoft revealed that early next year gamers will get to record television shows directly from broadcast stations and store them for viewing on Windows 10 devices.
All told, Windows 10 on Xbox One looks like a pretty hefty upgrade, and nowhere the massacre for entertainment that some expected it might be. Microsoft sort-of backed away from pushing the Xbox One as the one place to enjoy all kinds of entertainment. It seems the company is still dedicated to that vision, it's just learned not to repeatedly say that at events specifically for gamers.
To compliment Windows 10 on Xbox One, Microsoft is planning an updated Xbox One Chatpad. The company is hoping that more people will appreciate attaching a physical keyboard to their controller more than having to pull out a smartphone or tablet just to send a message.
Microsoft is taking pre-orders for the Xbox One Chatpad now for $34.99.

This article may contain affiliate links. Click here for more details.