Windows 10 on Xbox One: What's New & Different
Building things out in the open, that's what Microsoft seems to enjoy doing these days. Windows 10, Microsoft's single operating system for notebooks, tablets and phones, is being created in front of our eyes. Microsoft is also designing the New Xbox One Experience out in the open. That's the new software and app updates that many gamers simply refer to as Windows 10 on Xbox One.
Windows 10 on Xbox One is Microsoft's attempt to reset the software experience for its console. The Xbox One's current software was by no means amazing when it launched, but Microsoft gradually improved on it with software fixes and changes. Windows 10 on Xbox One is Microsoft's admission that the improvements it made don't go far enough in addressing usability issues.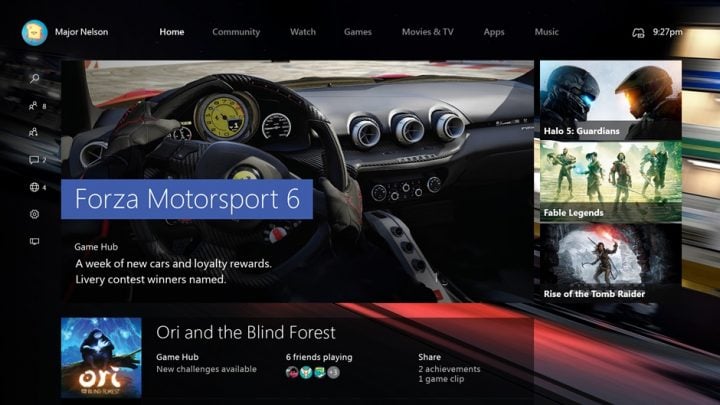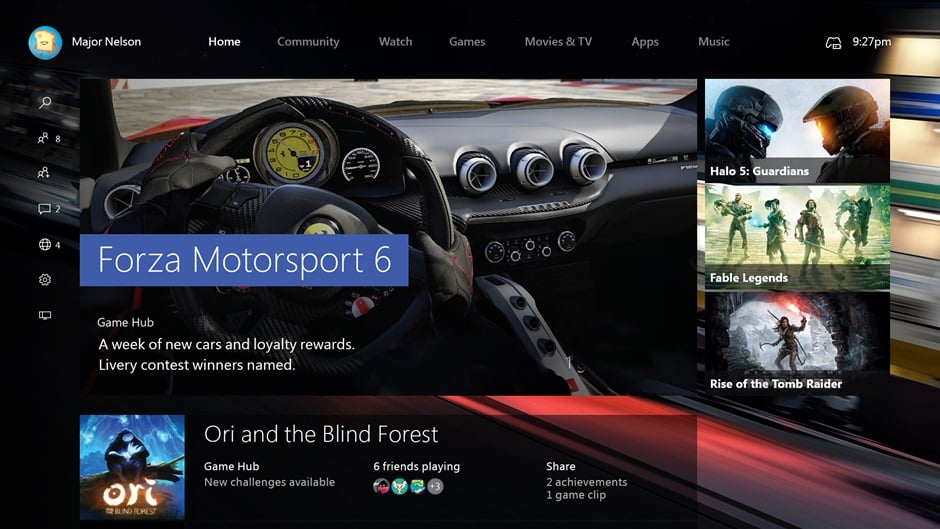 Read: Windows 10 on Xbox One Rolling Out Now
Go far, Windows 10 on Xbox One does. Microsoft's teams rethought almost everything in this new Xbox One Experience update.
What's Old Is New
I've had the software update running on a spare Xbox One console for the last two weeks and used it exclusively as my entertainment and gaming machine. Having watched videos of the new Xbox One Experience at this year's Electronic Entertainment Expo, I wasn't expecting to find myself lost within a few minutes. I did get lost, mostly because Microsoft seems to have torn down the old Xbox One interface until it reached the studs. My ignorance is also because I haven't touched my Xbox 360 in months.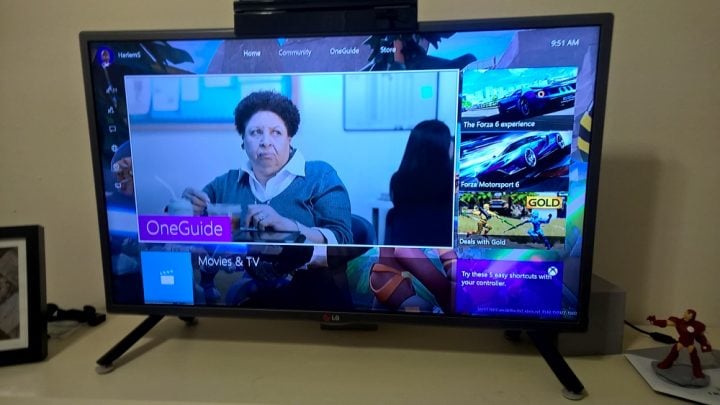 For all the visual differences between Windows 10 on Xbox One and the Xbox 360, they're very similar in key ways. Microsoft has kept the top-mounted navigation from the Xbox 360 & Xbox One, but added in a dedicated Community area that mirrors the now gone Community channel on the Xbox 360. Moving the joystick between channels changes what's available below. The OneGuide is now a centralized menu for all things entertainment related – regardless of whether users have connected a set-top box or TV tuner. (To be clear, the original OneGuide offered plenty of video on-demand services too, but folks never took advantage of them.)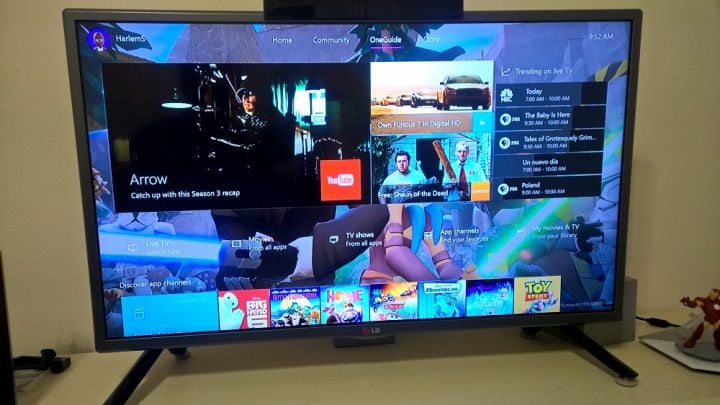 Scrolling over to the Store area opens up separate areas for apps, video and music. The design of the store is more graphical, just as the Xbox 360 Store was.
The new Home screen that's introduced with Windows 10 on Xbox One is a huge upgrade from both the Xbox One and Xbox 360. Vertical scrolling is the key with this update. A large window in the center shows users what apps they have open currently. Below that is a feed of different apps and games that were previously running. Instead of burying community activities as it did with the Xbox One originally, it's weaved them into this recently used list. Games show deep links to their Hub and Achievements, for example. Hubs let users see the latest information on their favorite games, get updates from the developer, look at the achievements they've earned and get breaks downs on how much progress they've made.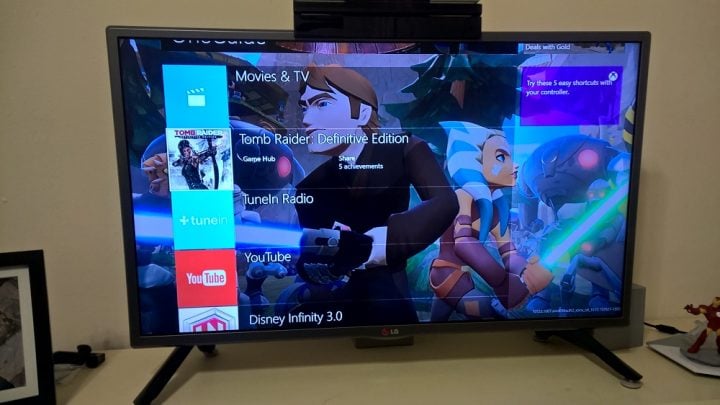 The Xbox 360 forced users to dive into a separate area off the Home screen to access their Pinned apps. Windows 10 on Xbox One forces users to scroll down to the bottom of the Home screen to get at their pins. Holding down the trigger on the Xbox One Wireless Controller takes users to the bottom of their list and their Pins. Microsoft is going to have to do a little user education on this one, I think.
The current time and battery meter for the Xbox One Wireless Controller always sits in the top-right corner of the New Xbox One Experience.
On the left edge of sits the most Xbox 360-like addition to Windows 10 on Xbox One: the Guide. For years, Xbox 360 users could check their current downloads, go to settings, play music and read messages directly from a pop-up guide that surfaces whenever someone pressed the Xbox logo on their controller. The Xbox One shipped with no central location for any of this functionality, forcing users to jump from app to app. Microsoft later added the Snap Center for quickly accessing messages, friends and achievements, but it felt like a bolt-on and performed like one too.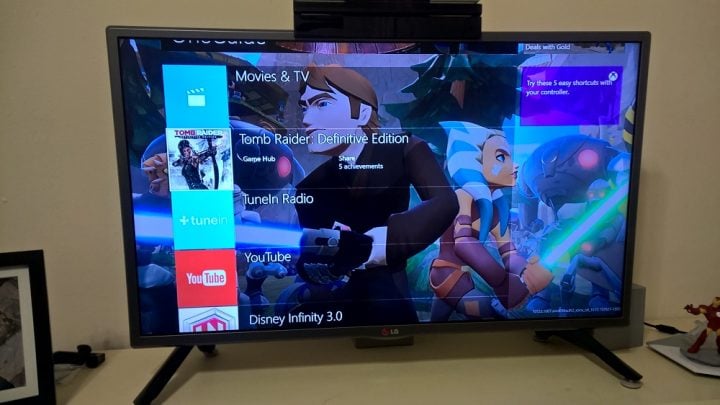 Flicking the joystick to the left on the Home Screen or double tapping the Xbox logo on the Xbox One Wireless Controller opens the new Guide. Inside the Guide is a list of friends, controls for starting parties, a message center, a notifications center and quick access to general settings. Microsoft added options for quickly muting Kinect and turning off the Xbox One directly into the Guide. The Guide slides in over top games and apps, something that its direct predecessor didn't do. Apps, like Hulu and Netflix snap are snapped to the left side of the screen now too, instead of on the right.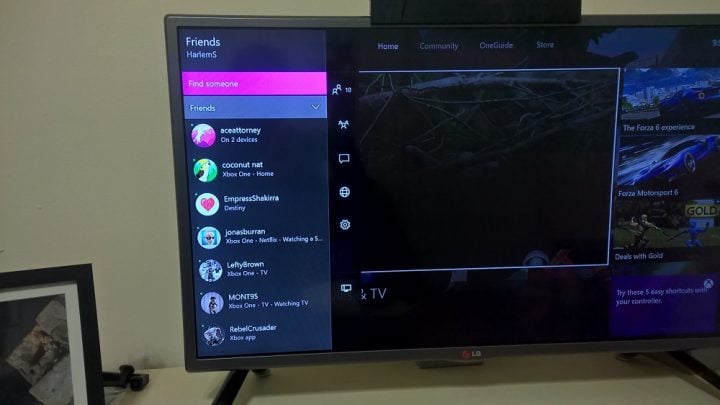 Windows 10 on Xbox One has dozens of other tiny changes. The redesigned fullscreen television listings navigation finally lets users see what they're watching while browsing what's coming up next. Microsoft Edge replaces Internet Explorer for now – at least in name.
What's New Is Better
The New Xbox One Experience is too early in development and too blatantly unfinished to pass final judgement on it. The direction that Microsoft is moving in is a smart one though.
The update makes the things that should have been easy all along, easier. Killing a lot of the horizontal scrolling makes maneuvering around all the different apps and experiences natural. The Guide finally brings salvation from the app-centric hell that makes the current interface feel so isolating.
Microsoft says it'll continue to update Windows 10 on Xbox One in public. Already, we know the Cortana personal assistant is coming with the New Xbox One Experience when it launches for everyone in November.

This article may contain affiliate links. Click here for more details.