Windows 10 Problems: Wait to Upgrade for Now
Microsoft's free Windows 10 upgrade is all most PC users can talk about this summer. Announced earlier this year and released on July 29th, the update includes course corrections for features that debuted in Windows 8.1 and huge functional upgrades for Windows 7.
Among the Windows 8.1 upgrades that it gets right is the new Start Menu. Instead of forcing everyone to stare at a giant screen full of Live Tiles, Windows 10 has a Start Menu for notebooks and desktops that don't have touch. Apps downloaded from the Windows Store are no longer full screen affairs. They now sit in windows, resizable with just a click and a drag of the mouse pointer. Windows 10 starts faster and has more power user features compared to Windows 7. For example, Windows 10 lets users snap four different apps to their screen and create multiple desktops for organizing everything that they're working on.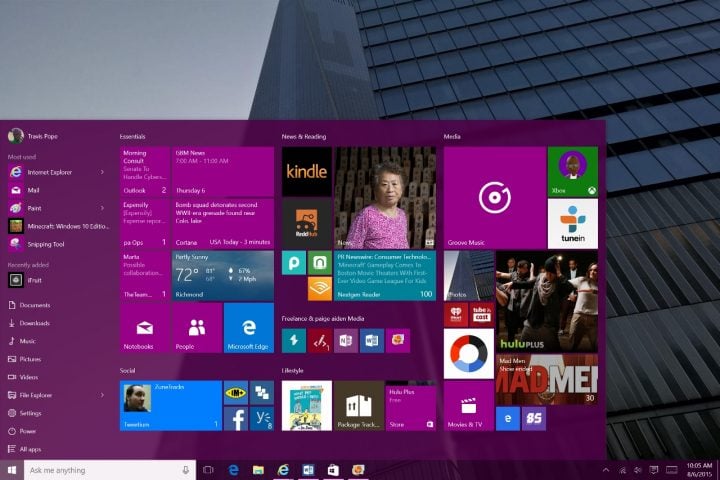 Read: Windows 10 Review – A Love Affair
Eventually, everyone eligible to get the free Windows 10 upgrade should take advantage of it. There are tons of useful features and upgrades. After nearly two weeks of continued use I think that users shouldn't download the free Windows 10 upgrade yet.
Windows 10 Problems – Upgrade Issues Persist
My very own free Windows 10 upgrade went as well as Microsoft and I could hope for it to. Coming from Windows 8.1, I downloaded the Windows 10 media creation tool so that I wouldn't have to reserve the upgrade. Within two hours my Surface Pro 3 was ready to get things done on. There wasn't a single hiccup. Upgrading a Dell XPS 13 went well too.
I can't say the same has been true for other machines. Windows 10 upgrade problems seem rampant. Microsoft is delivering the free Windows 10 upgrade through its long-running Windows Update system. In some cases Windows Update either runs into issues downloading the update, or simply connecting to Microsoft's updates when you purposely try to perform the update process. On other machines, the Windows 10 upgrade stops while in progress, forcing you to go back to your old version of Windows.
An attempt to upgrade a mid-range desktop PC ended in a boot-loop loop a few days ago. Trying to upgrade a Dell Venue 8 Pro tablet with Intel Processor ended in cryptic, "Something Went Wrong errors." The comments in GottaBeMobile's Windows 10 Upgrade problems breakdown is filled with users all trying to figure out why their system just isn't working the way the way it should. Microsoft's own Answers forum is filled with upgrade issues from users.
Read: 7 Windows 10 Upgrade Problems & How to Fix Them
Windows 10 Problems – Everyday Annoyances
Even when users do manage to download the Windows 10 upgrade they're not out of the clear. Every piece of software has bugs and issues that engineers don't find until the software has been tested in the real world.
I've downloaded the Windows 10 upgrade and completed the install process on a Microsoft Surface Pro 3, Dell XPS 13 and an entry-level HP Pavilion notebook that originally came with Windows 10. The benefits of Windows 10 are evident on all of them. Better notification management, fast start-up times, the Cortana personal assistant are highlights.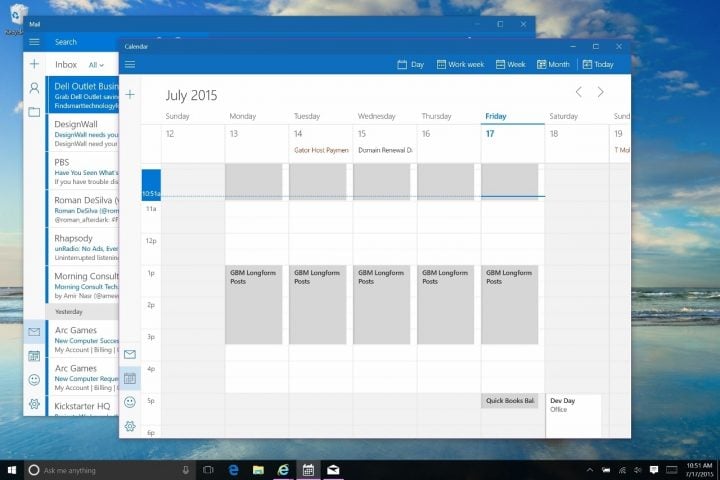 Each of these have some consistent bugs too. Sometimes these issues are minor. Cortana, will fail to launch correctly or the Start Screen/Start Menu will completely fail and I'll have to open it again. Those need to be fixed but aren't horrible.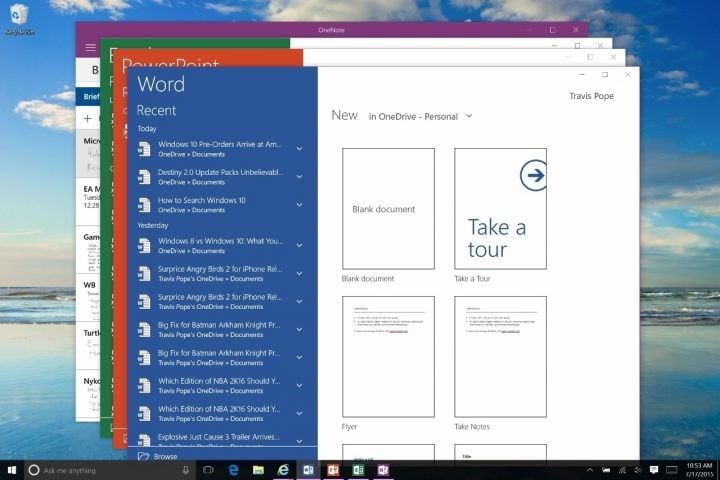 The truly horrible issues I've found are directly related to essential tasks. Windows 10 depends on apps available through the Windows Store for most of its functionality. Microsoft's plan is to provide upgrades for these apps. Arguably, they are the highlight for Windows 8.1 upgraders. These new apps are miles beyond what Microsoft offered before.
Read: 7 Common Windows 10 Problems & How to Fix Them
Though stuffed with features, Mail and Calendar are plagued with issues. Periodically, Mail will forget your account credentials, forcing you to choose "Fix Account" before you can check your email. What makes it annoying are the false positives, the times when you get an alert asking you to fix an account that isn't broken. Sometimes Mail and Calendar will fail to launch at all, forcing you to restart your Windows 10 notebook or tablet. Every so often a website I open or a program I launch will suddenly bog down my system, slowing progress on what I'm doing to a crawl.
Windows 10 Problems – What You Should Do
The free Windows 10 upgrade solves real problems for real people. There are features to love for every kind of user. You should download it – eventually.
For now, hold off on downloading Windows 10. The Windows 10 problems that I and others are seeing are too widespread to ignore. Bugs are one thing, not being able to check your email or activate your copy of Windows are another. Microsoft has some bugs and issues that they absolutely need to deal with before you go installing this on your machine. Give it a few more weeks, maybe Microsoft will have these issues sorted out by then.

As an Amazon Associate I earn from qualifying purchases.