Windows 10 Release Rumors Arrive 
Microsoft shocked most Windows notebook, desktop and tablet users when it revealed the Windows 10 operating system would return the Desktop interface and Start Menu to prominence. Now a leaked Windows 10 release time-frame threatens to do that again. Comments made by the CEO of one Microsoft's biggest partners indicate Microsoft plans to launch its Windows 10 in July, much earlier than suspected.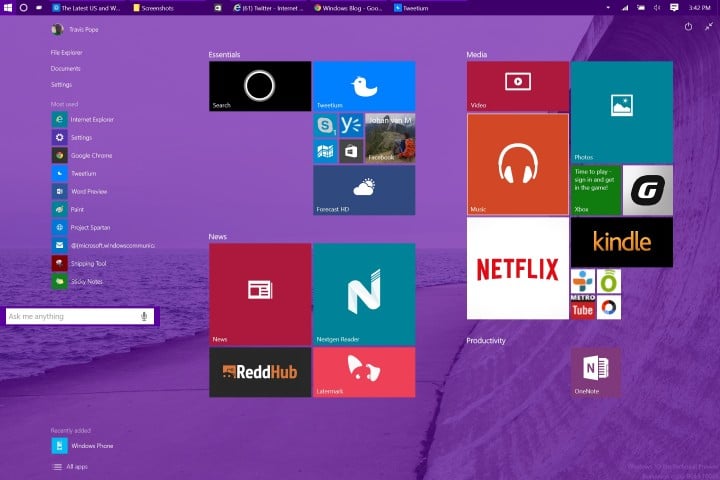 In statements about the company's earnings, CEO Lisa Su said that AMD was factoring in the launch of Windows 10 in earnings and forecasts it provided to investors.
"What we also are factoring in is, you know, with the Windows 10 launch at the end of July, we are watching sort of the impact of that on the back-to-school season, and expect that it might have a bit of a delay to the normal back-to-school season inventory build-up," Su told those on the call, according to Seeking Alpha. AMD would is in a position to know Microsoft's Windows 10 release plans. The company makes chipsets and graphics cards that go inside millions of Windows PCs.
Many people were caught off guard earlier this year when Microsoft revealed a launch of Windows 10 this "summer."
Typically, Microsoft spends the summer before a big operating system release finalizing the different parts of the Windows ecosystem. In years past, Microsoft would just be sending off the operating system for testing and installation on devices from Dell, HP, Lenovo in late summer. PCs built around the new operating system would miss the coveted Back-to-School shopping season and arrive in time for the holiday season. To bridge the gap between the two, Microsoft would partner with PC makers to ensure that people who purchased a PC during the Back-to-School shopping season would get a free copy of the operating system upgrade when it arrived.
A July Windows 10 release wipes almost everything we know about how the company lets users get its operating system. Releasing in July would mean that Microsoft would need to finish the operating system sometime within the next two months. We could already be looking at a new crop of PCs built around Windows 10 in August or September.
Already Microsoft has redefined what a new upgrade for Windows can be. Windows 10 is a huge release for Microsoft. In no uncertain terms, the company is hoping to build a better platform for a different kind of Microsoft. This new Microsoft still makes money on software, but it also hopes to make money by providing users with essential services and apps they can't get anywhere else. For example, its Office 365 subscription service lets users download five copies Desktop or Mac OS copies of Office for $9.99 a month. Also included in that is unfettered access to the Office for iPad and Office for Android apps. OneDrive, for example, integrates with iOS, Windows and Android too. Microsoft gives users 15GB of free cloud storage and they can purchase more too.
The Windows 10 upgrade will be free for those who upgrade within the first year, probably because it's a great opportunity to get Microsoft's newest line-up of services in front of as many people as possible.
Read: How Microsoft Hopes to Lure You with Windows 10
Windows 10 ditches the segregated Start Menu and Start Screen from Windows 8 and Windows 8.1 in favor of an integrated approach. The Start Screen is still present, but on notebooks and desktops it acts as a Start Menu and doesn't take over the entire screen. Apps downloaded from the Windows Store in Windows 10 can run on the Desktop alongside other apps. When there's a touchscreen Windows 10 makes every app full screen along with the Start Screen.