Windows 10 Release to Focus on Fans, Bring New PCs
With the Windows 10 release date of July 29th quickly approaching, Microsoft is clarifying tons of Windows 10 release details and revealing when users can expect new PCs and their free Windows 10 upgrades. Contrary to early reports, the Windows 10 release will include new PCs built for the operating system. Also, Microsoft plans to focus its marketing efforts on the idea that users can upgrade their lives by using Windows 10 and the services included with it.
Microsoft revealed more about its Windows 10 release plans in a post on its Blogging Windows website yesterday afternoon. Windows 10 is Microsoft's latest operating system. Besides a refreshed Windows Store, the update includes support for Microsoft's Xbox Live service, its Cortana personal assistant and the return of the Start Menu last seen in Windows 7.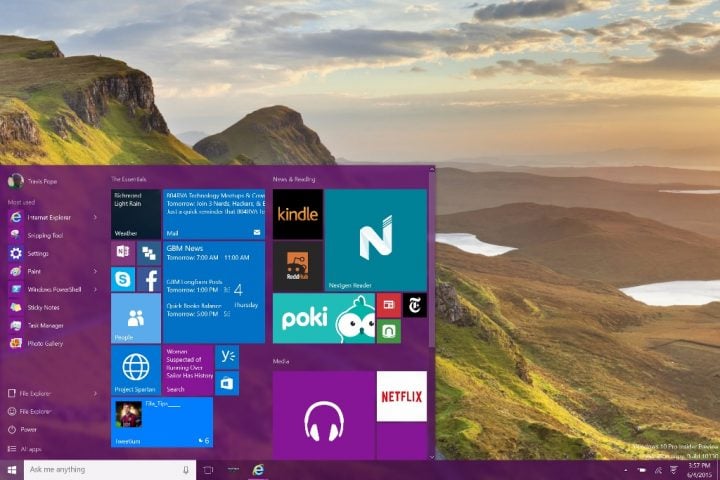 Microsoft says that starting this coming Monday we'll see the company roll out waves of television ads and website ads designed to get the word out about the free Windows 10 upgrade. In particular, Microsoft is betting on two rather low-profile features included in Windows 10: Windows Hello and Microsoft Edge. Windows Hello is what Microsoft calls its new universal login system. The feature uses fingerprint readers and camera sensors to let users login into their Windows 10 PCs. Theoretically, the feature should make Windows 10 notebooks, laptops and tablets as easy to login to as an iPhone 6 equipped with Apple's TouchID fingerprint reader. Microsoft Edge is the new web browser that'll eventually replace the long despised Internet Explorer.
Read: Windows 7 vs Windows 10 – What You Need to Know
Microsoft says it's partnering with 100 local nonprofit organizations and 10 global organizations to get $10 million in cash investments to organizations that can do the most good. The company is calling it the Upgrade Your World initiative. It will let users vote on another nonprofit organization to be added to the investment roster. 100 local non-profits nominated by the community will get a cash investment in their cause directly from Microsoft.
Early this week reports indicated that Microsoft's partners wouldn't have any Windows 10 devices ready in time for the Windows 10 launch. Microsoft itself ignited the rumors when it told reporters at Bloomberg that there'd be no new hardware ready in time for launch. Dina Bass of Bloomberg Tech reports that Microsoft clarified the situation surrounding hardware built specifically for Windows 10. "Microsoft has corrected comments to me. Now says Win 10 PCs at launch from HP, Dell, Lenovo and Acer," she says on her Twitter account.
Those who choose to upgrade their PC on Windows 10 release day can head to Best Buy, Bic Camera, Croma, Curry's, PC World, Elkjop, Jarrir, Incredible Connection, Media Markt, Staples, Wal-Mart, Yamada and Yodobashi to get help. Each store will also have opportunities for users to try the operating system in person.
Having new PCs made for Windows 10 is absolutely key to the operating systems success. While Windows 10 will work well on Windows 7 and Windows 8 PCs, some features will require hardware upgrades or accessories. For example, to use Windows Hello you need a supported camera sensor or fingerprint reader built into your device.
Read: How to Get the free Windows 10 Upgrade 
Interestingly enough, Microsoft says it won't be celebrating the launch of Windows 10 in its usual fashion. Instead of holding a single event the company plans to hit the road, letting users in Sydney, Tokyo, Singapore, Beijing, New Delhi, Dubai, Nairobi, Berlin, Johannesburg, Madrid, London, Sao Paulo and New York City get hands-on time with the operating system and face-to-face time with members of the Windows Team.
Microsoft will give free Windows 10 upgrades to anyone with a PC running Windows 7 and Windows 8. Many Windows Vista PCs will be able to upgrade, but Microsoft won't provide them free of charge.

As an Amazon Associate I earn from qualifying purchases.