Windows 10 to Xbox One Streaming Is Happening
Arriving on Windows 7 and Windows 8.1 PCs today, Microsoft's Windows 10 upgrade is a big deal for gamers. Besides adding support for recording footage from PC games and Xbox Live integration, Microsoft says it has something else coming for users who aren't too impressed with its Xbox One to Windows 10 game streaming: Windows 10 to Xbox One game streaming.
Microsoft's Phil Spencer commented on Xbox One users being able to stream games from their Windows 10 PCs in an interview this week with The Verge. Spencer, heads Microsoft's Xbox teams in charge of engineering and selling the Xbox One, Xbox 360 and Xbox on Windows 10.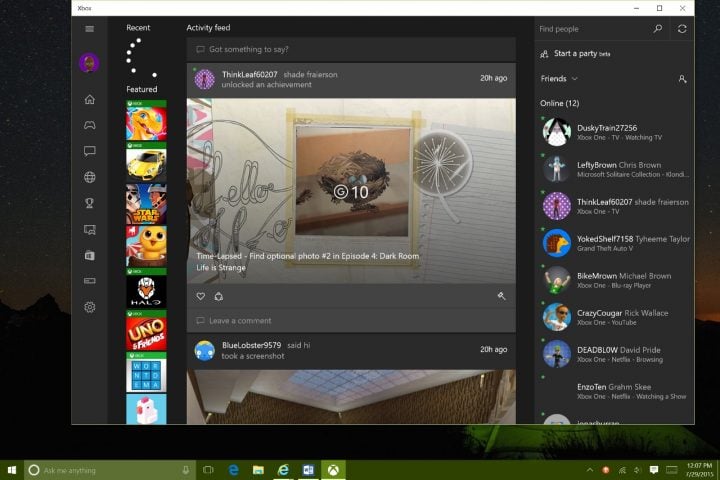 Read: Windows 10 Review: A Love Affair
Spencer said that streaming games from Windows 10 PCs to Xbox One is "absolutely in scope of things we want to do," when asked specifically about users at home being able to play their PC games on their Xbox One console. He also dived into why getting streaming to work from Windows 10 PCs is more difficult for Microsoft's development teams than it was for the Xbox One. "It's actually a little more challenging doing the encoding on the PC side to the Xbox, but challenge is good." With millions of different Windows PC configurations, there's no solid performance base to start from.
Read: How to Get the Free Windows 10 Upgrade
The Xbox app in Windows 10 allows users to connect to their Xbox One console over their home network and see everything it sees. When paired with an Xbox One controller, users can play their Xbox One games on their PC wirelessly. It's an impressive feature, one Microsoft has talked about ever since its January Windows 10 Media Briefing. Now it's available for all running Windows 10 to try for themselves. Xbox One to PC streaming is incredibly useful if a user isn't anywhere near their console and doesn't feel like moving. In a way, it liberates gamers from their entertainment center and couch.
Unfortunately, Microsoft isn't providing any more information about the feature or how soon it might be implemented. In fact, the company is only confirming that a plan to introduce Windows 10 to Xbox One streaming is something they are working on. Whether we see the feature or not depends on how well that work goes.
Windows 10 streaming to Xbox One would theoretically allow users to play games in their living room that aren't necessarily available on Xbox One today. For example, SimCity and StarCraft are huge, important franchises with no real counterpart on the Xbox One.
In order to get to a future where Windows 10 PCs can stream games to the Xbox One Microsoft has gaps to fill in. One of those is adding support for mice an keyboards. Today, the Xbox One supports keyboards on a case by case basis, but doesn't support mice at all. This is because they're not used in any Xbox One games currently. This has to happen before users can stream PC games on their Xbox One. The mouse and keyboard are to PC gaming what the wireless controller is to console gaming. Not supporting it isn't an option.
Besides Xbox One to PC game streaming, Xbox on Windows includes tons of Microsoft's Xbox Live features. Inside the Xbox app Windows 10 users can looking through their achievements, browse a friend's profile, start a Party Chat session with Xbox One and other Windows 10 users and earn new achievements. Users can record video and take a picture from any game they own. If it's a game downloaded from the Windows Store they can also upload that content to Xbox Live.
Read: All My Favorite Xbox Features in Windows 10
Again, Windows 10 is a free update for users running home and professional versions of Windows 7 and Windows 8.1. Microsoft has only just begun upgrading users to the operating system today. It'll continue to do so for weeks to come.

This article may contain affiliate links. Click here for more details.