Windows 7 Beta 1 Screenshots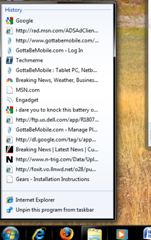 I'm experimenting with Windows 7 Beta 1 this morning and grabbing some screenshots of things that look and feel a little different than Vista. The new Taskbar takes awhile to get used to, but then the productivity benefits really begin to kick in — roll over an icon and the active windows for that app appear above. When you roll over the thumbnails, they appear on the desktop as a preview. If you want to go to that window, then you click the thumbnail. In addition, in various Microsoft apps like IE 8 and Windows Messenger, right clicking the taskbar icon brings up various menu choices. For example, for IE, the History list shows up. For Messenger, tasks like Status changes and other Messenger specific items show up. I'll capture this and more in an InkShow due up in a day or so.
More pics after the break of new Touch settings.
Click images for higher res shots.
| | |
| --- | --- |
| |   |
|   | Settings for Inertia and adjusting the sensitivity |
|   | |
| New configure options for pen and touch displays — After clicking setup, the screen to the right the displays |   |
|   | |
| Calibrate options for pen and touch. Both options display the image to the right. |   |
|   |   |

As an Amazon Associate I earn from qualifying purchases.