Windows 7 Math Input Panel Screenshots
Lots of folks are asking about how indepth the Windows 7 Math Input Panel works – does it do Algebra, Calculus, etc? Yes, it recognizes those formulas extremely well. Here some examples from using formulas from my son's Algebra book. Click the images for fuller screenshots.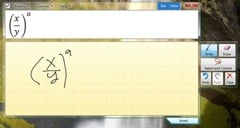 This article may contain affiliate links. Click here for more details.