Windows 7 & N-Trig Multi-Touch Screenshots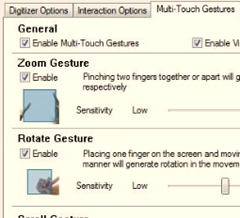 As Warner posted this morning, N-Trig has released their beta Multi-Touch drivers for Windows 7 and the Dell Latitude XT. Here are screenshots of the new N-Trig multi-touch applet which shows support for the new rotate gesture feature, along with previously implemented multi-touch gestures. I experimented with rotating pictures in the Picture Previewer and it definitely works. I'll get some video up later today / tonight, but my initial impression puts the overall experience on par with the multi-touch for Vista — it works, but it isn't very fluid or smooth.
As the release notes point out, the pen does not work with this version of the drivers.