Windows 7 RC Touch + N-Trig First Impressions: Touch is Good, Ink Needs Work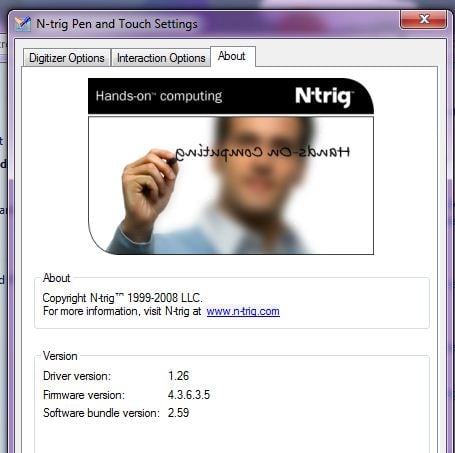 N-Trig released their Windows 7 RC 2.59 multi-touch drivers for the Dell XT,Dell  XT2, andHP  TX2 yesterday and I just finished going through the install. Before installing this new version, make sure you 1) download the correct version for your particular computer, 2) uninstall the previous version through the Control Panel / Uninstall Program feature and then reboot before installing this new version.
Here are my impressions on the new ink support, as well as the multi-touch gestures.
The good thing about  2.59 version is that the pen is now supported, which is a huge improvement over previous beta versions. One of the first things I did was open up Journal and begin inking.  I experienced some strange behaviors with touch still being recognized even with the pen touching the screen. What is strange about this behavior is that I wasn't allowed to ink at all using the pen because touch was still still turned on and the pen wasn't being activated automatically. When lifting the pen ever so slightly, touch would turn on and then the side of my hand would begin to make ink strokes, but the pen wouldn't generate any ink even when writing on the screen. Some obvious bugs still need to get worked out with pen / touch integration. I'll still use it,  but I definitely look forward to the next version from N-Trig. Good start on the pen, N-Trig, but there is still some work to be done.
Like the previous beta version, multi-touch gestures are now recognized at the operating system level which means a more natural and fluid response using your finger to navigate around Windows 7. Panning, zooming, and multi-finger input work really well. Panning in a web page is very iPhone-like, while zooming and rotating a picture is quite smooth. Zooming in a webpage utilizes the browsers zoom functionality so it isn't as smooth as picture zooming. Pan scrolling in both IE and Chrome work equally as smooth. Media Center functionality is also quite natural.
Navigating around Windows 7 using touch has been quite accurate, with very few false hits.

This article may contain affiliate links. Click here for more details.