Windows 7 Thin and Lights Compared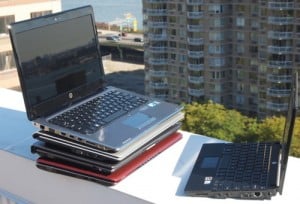 Joanna Stern compared four thin-and-light 13″ notebooks running Windows 7 and had a lot of good things to say about the Acer Aspire Timeline AS3810T-8737, ASUS UL30A-A1, HP Pavilion dm3, and Toshiba Satellite T135. By the looks of it, none of them are scared of heights.
All of these noteboks cost about $800 as tested, which is pretty darn affordable if you consider what the same money could buy a year ago.
Joanna picked the ASUS UL30A-A1 as her favorite because of its design and long battery life. This notebook measured less than an inch thick, performed better than the rest and played a movie continuously for almost six and a half hours.
While these notebooks are definitely a step up from netbooks in terms of performance, they aren't workhorses. I do think a lot of consumers will be opting for this category of notebooks in the near future because of their design aesthetics.