Windows 8.1 Release is Here: Free Update in Windows Store
Windows 8.1, the free update that enhances much of the core functionality in Microsoft's Windows 8 operating system, is now available to download from the Windows Store.
This update comes just a year after Microsoft shipped Windows 8, and marks a shift in the way the company creates and distributes updates to users. Previous updates to Windows' core functionality have usually taken Microsoft around three or four years to produce. Once they were done, Microsoft either required users to pay for the upgrade at a local store or download the update using its Windows Update tool. This update marks the first time that a new release has been distributed through the Windows Store that comes installed on every Windows 8 device.
Based on our time with the Windows 8.1 Preview and the final version going out to users today, downloading the update is a must have for users.
Microsoft has worked to flesh out the Start Screen. Users have two different Live Tile sizes to choose from, and they can add backgrounds to the Start Screen without the need for buggy third-party software downloads too. Windows 8.1 also includes built-in support for multitasking with Windows Store applications. Now users can have as many as 8 applications open, provided that their device's display resolution is high enough.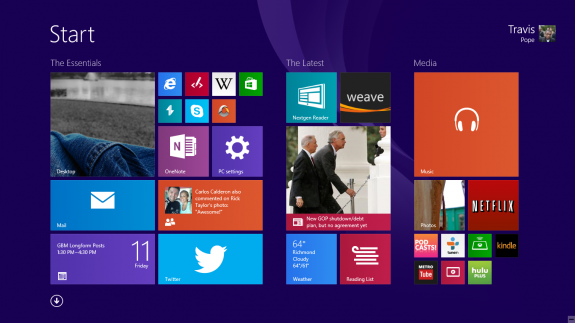 Read: 26 Awesome Features in Windows 8.1
The news is equally good for users who want nothing to do with the Start Screen. Microsoft has included a few hidden options that allow users to boot into Desktop environment, remove the Hot Corners, hide the Multitasking Menu and hide the Charms Bar.
Laptops, desktops and tablets with Intel's processors aren't the only devices that can update to Windows 8.1 today. Microsoft says that Windows RT devices like its own Surface RT tablet can update through the Windows Store beginning today as well.
In no way should users consider beginning the update on mission critical machines until they have the time to let the update run completely before heading to work or school. While update times depend on a lot of different variables, our initial installation took around 30 to 40 minutes to complete on a machine with around 60GB of files.

This article may contain affiliate links. Click here for more details.