Microsoft's re-imagining of what Windows could be with Windows 8 was a bit of a sore spot for users. For all purposes Windows 8 was Microsoft's first attempt at bringing fresh ideas to Windows in decades. It was ambitious. It was new. It was experimental. It was a mobile operating system sitting on top of Windows. All of these qualities tainted users' reaction to the final product. How could Microsoft, who was perfectly fine not forcing design decisions on users, suddenly force their will on millions of diverse users with different tastes?
Now, Microsoft is back with another major release of Windows. Dubbed Windows 8.1, the operating system seeks to address the concerns of users who liked the new Start Screen but thought it wasn't fully featured enough. It's also meant to quell the screams from users who simply want to be left alone to sulk in the Desktop experience and toolbars of Windows 7.
Can Microsoft bridge the gap between the users it has and the users it wants?
Overall Performance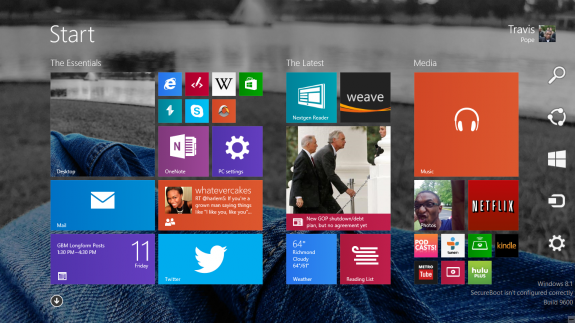 Since Windows Vista, Microsoft has been careful about steadily lowering hardware requirements with each new version of Windows. While Windows 8.1 is a new version of Windows, it's still the same underlying code. This means there aren't any obvious performance gains beyond what Windows 8 already achieved.
In no way is that a bad thing. Windows 8.1 is fast. Desktop applications exhibit no problems, and start-up times on the Dell XPS 13, make booting Windows 7 on the same PC feel like a chore since it used slower booting options by default. Unfortunately, application launch times still seem a bit too slow. That's a problem that only gets worse in media apps like Xbox Music and Xbox Video. It just feels like your are staring at the splash screen of Windows Store apps a bit too long.
Battery Life
Users installing Windows 8.1 on a desktop have no reason to care about battery life. Users with laptops, convertibles and tablets are an altogether different story. It feels like Microsoft has made a few strides in the battery life department, but it's entirely possible that it's actually Windows 8.1's overly aggressive screen dimming functionality that is allowing users to eek out a few more moments with Microsoft Word. Either way, there aren't any features in Windows 8.1 that either vastly increase or decreases battery life.
Features
Apps
Windows 8.1 includes a dozen new applications and updates for older applications that are designed to complement the typical Windows User experience.
Internet Explorer 11 (Desktop & Windows Store)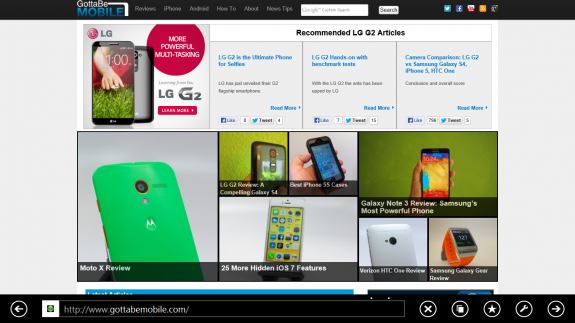 To be fair, whether the issues floating around with Internet Explorer are due to websites themselves or the browser's upgraded engine is a bit unclear. Regardless, Internet Explorer 11 breaks websites and it breaks them often. It doesn't matter if you're in the Metro version or the desktop version.
That's a shame because the Windows Store version of Internet Explorer makes last year's Internet Explorer look like a joke. Finally, users can open more than one Internet Explorer window at the same time. Internet Explorer's single App Bar for navigating the web is well done. The best thing here is the new tabs syncing. Should a user have more than one Windows device, Internet Explorer will allow them to pick up where they left on another Windows 8.1 device. It's very useful when you have a Windows tablet that you prefer to browse the web on.
Xbox Music & Xbox Video (Windows Store)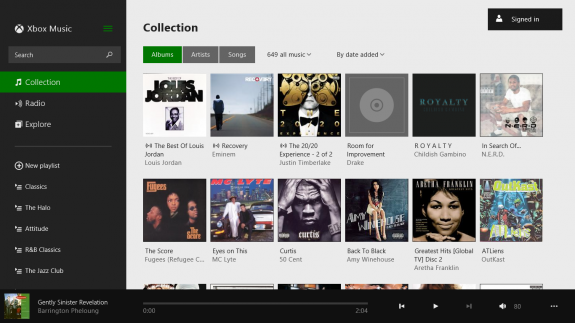 To say that Xbox Music has come along nicely is an understatement. With its new design and effortless music syncing Xbox Music is finally blossoming into the Metro-style music player that we knew it could be. There still isn't any metadata editing, but at this point we at least know that they're heading in the right direction with it. After last year's disaster of an Xbox Music client, there's nothing but good news here.
Xbox Video on the other hand seems to be stuck with the horizontal design that made Xbox Music such a pain to use early on. There's simply too much scrolling here. The company has darkened the app and put recommendations at the forefront, but the app still doesn't feel intuitive or straightforward.
People, Mail Calendar and Skype (Windows Store)
Mail has seen a new coat of paint and some extra features too. Together, these make Mail for Windows 8.1 far better than the application Windows 8 shipped with a year ago. Windows 8.1's Mail app includes support for dragging emails into folders, flagging important messages and sorting using the same categories from Outlook.com. Mail's support for GMail, Yahoo!, AOL, IMAP and Exchange Active Sync accounts is great too. Nothing but good stuff here.
While the People hub looks different, it still feels like there's way too much horizontal scrolling going on here, particularly when exploring Twitter and Facebook notifications. Combining a user's contacts and social media alerts sounds great, in theory. Microsoft's execution leaves much to be desired though.
With Windows 8.1, Skype officially replaces the version of Windows Messenger that came pre-installed in Windows 8. There's no hard feelings there since the Windows Messenger had trouble surfacing notifications. Skype's Windows Store app isn't great, it also manages to loose notifications for messages, however as Skype includes video messaging and land-line calling it is worth the trade.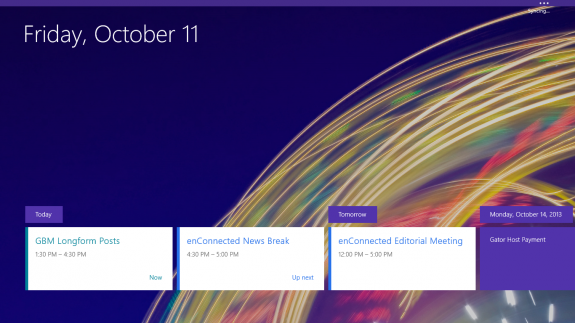 Microsoft also tweaked the design of Calendar and added a new sort-of splash screen that showcases a chosen background and a user's upcoming appointments. It also added a small bar to let users know that there are more options. Again these feature additions are small, but useful.
Reading List, Alarms, Calculator
Finally, the company has added a few new applications including the Reading List cross-syncing bookmarking utility, a Windows Store version of Calculator, a simple Alarm utility that can surface notifications to the lock screen and a new Movie Moments app that makes editing video a breeze. Though users will likely appreciate all three, the sleeper here is Reading List. Using the Share Charm to add articles to tablets running Windows 8.1 from a desktop or laptop could change the way users consume online articles. It definitely changed how I read articles, at least.
User Interface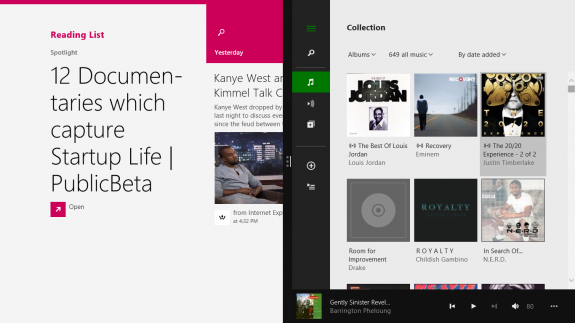 If Windows 8 earned a reputation for forcing users to do things the way Microsoft intended, Windows 8.1 will likely earn a reputation for back peddling on most of the controversial features of its predecessor.
The Start Button is back on the taskbar for users who missed it. This isn't to say that the Start Menu is back, users still need to open the Start Screen to launch applications and perform quick searches. Speaking of the Start Screen and its features, Microsoft is no longer forcing users to look at most of its interface elements. Users can now boot directly to the Start Screen without third-party utilities.
They can also hide the charms bar and the multitasking menu hot corners. Microsoft scores big points for making these options available, but it's also clear that the company added the functionality begrudgingly. Toggles for these features are buried in a navigation menu that is only accessible by right clicking on the taskbar or by using Search. If Microsoft was going to back pedal, it should have made these things a bit easier to find. It's not like users who want the functionality bad enough won't search for them online. Microsoft had nothing to lose when implementing these options. Hiding them just seems unintuitive.
Things are a little better for Metro users though. Starting with this release, users can create larger and smaller live tiles if the application supports them. They can also add backgrounds to the Start Screen too. The toggle for enabling the functionality is also hidden in the aforementioned navigation menu in the Desktop.
Functionality
Windows 8.1 doesn't just address concerns. Microsoft is also shoring up its portfolio of services by building them into their fastest selling consumer product.
Bing
A new Bing Smart Search experience comes built into the Search charm in Windows 8.1. While most users will find being able to search the web and their PCs and SkyDrive very useful, the functionality means that the Share Charm works completely differently from the way it did before the update.
Whereas users would trigger the Search Charm to find videos in a YouTube application, Search now seeks out information from contacts, documents, photos and Bing by default. That's great for new users, but a bit rough for everyone else. To compensate for the change, most the operating system's built-in applications now have search fields built into their design. Considering the Search Charm did confuse users in Windows 8.1, it's not a bad trade-off.
SkyDrive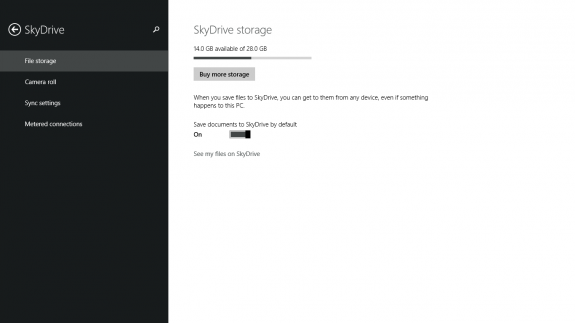 SkyDrive is all over Windows 8.1, and is responsible for syncing Start Screen customizations, settings, account details and even lock screen backgrounds. Users who sign in with a Microsoft Account trigger most of the built-in functionality automatically.
So deep is Windows 8.1's connection with SkyDrive that it makes files stored on SkyDrive available to users as if they are stored locally. They aren't by default, but users can have the operating system sync files back and forth by simply right clicking on individual folders and telling the operating system to make those files available offline.
Unfortunately, this is another one of those places where Microsoft falls off the improvement wagon. SkyDrive syncs only the contents of a SkyDrive folder in the user's file. That means in order for SkyDrive to really be used as a seamless backup utility users have to move their folders inside SkyDrive. It's arduous, time-consuming and a big pain.
So too, is Microsoft's decision to stuff a File Explorer inside of the Windows Store version of SkyDrive. It's entirely possible that users could explore their device for hours and not find that essential functionality. If Microsoft wants users to become less reliant on the Desktop environment then file functions should be built into the entire user experience, not hidden in SkyDrive.
SkyDrive is better in Windows 8.1, but it's still not as seamless as it could be, even if users can monitor and purchase more storage right from the newly updated PC Settings app.
Apps
Beyond these two additions, Microsoft is finally giving Windows Store apps some breathing room. Apps are now showcased in a newly redesigned Windows Store that doesn't abuse the horizontal scrolling paradigm that Microsoft's designers were in love with last year. The company has also added new multitasking views that allow users to see as many as eight Windows Store apps on their display. App updates are now installed in the background and synced across devices automatically too.
Devices
Windows 8.1 also beefs up support for emerging technologies in a few different ways. Microsoft is adding 3D printing support to Windows with this release. It's also enabling wireless projection support and built-in support for fingerprint readers too. That's all great, except now none of it really works.  Apparently, Microsoft has adopted a standard for wireless displays that most set-top boxes simply don't support yet and fingerprint readers haven't been popular in years. It's good that the company is adding this functionality for the future, but it just doesn't feel all that useful right now.
Final Verdict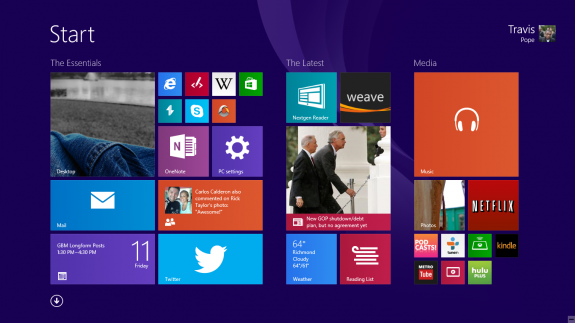 Windows 8.1 is one of those updates that makes users appreciate Microsoft's new yearly release cycle. It doesn't come full of sweeping changes like previous releases did. However, it's stuffed to the brim with small feature tweaks and updates that makes it much more of a flexible operating system than Windows 8. That being said, it is clear that Microsoft still has work to do if it wants to rein in some of the issues users have with Window's new direction.
No matter how hard they try to foist it on users, horizontal scrolling is still a pain, even when it's on tablets. While the Metro design language feels more polished here, most of the functionality implemented here still feels too hidden. Many apps don't have small onscreen elements to alert users of more options, including the Windows Store version of Internet Explorer.
Bing and SkyDrive integration feel like they need more work here, and Microsoft's decision to hide most of the desktop's restorative options feels like the company is refunding users the money they're owed and deciding to throw it on the ground instead of hand it to them politely.
Still it's a free update that addresses Windows 8's shortcomings. It's definitely a must download.

As an Amazon Associate I earn from qualifying purchases.