Windows 8.1 Update 1 Coming to Save Desktop and Notebook Users Next Month
Keyboard and mice uses could be in for some relief sooner soon. New reports now indicate that Microsoft has finished work on Windows 8.1 Update 1 and could begin rolling out the update to users as soon as next month.
Rumors of Microsoft finishing work on the operating system update surfaced today thanks to Russian leaker WZor. It's his claim that Microsoft finalized Windows 8.1 Update 1 on February 21st, roughly a week and a half ago.
So why is this such big news? Leaks have indicated that Windows 8.1 Update 1 will contain a ton of fixes and changes for Windows 8 users who prefer a mouse and a keyboard over a touchscreen.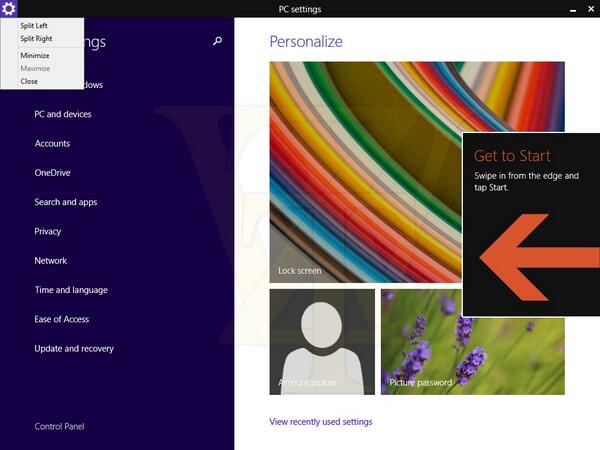 For starters, users will be able to run the Start Screen and the taskbar all at the same time. Windows 8.1 Update 1 also adds new right-click menus that will feel more familiar to anyone who has already become comfortable with right clicking for more options in the Desktop and Desktop apps like iTunes. Metro style applications also surface in the Desktop's taskbar now, making it easier for users to interact with Metro style apps. The company has also added search and power buttons to the top of the Start Screen. There's even  new app close buttons in the top right-side corner of every app.
Read: Windows 8.1 Update 1 Leaks Point To More Mouse and Keyboard Concessions
The biggest change here is overwhelming going to be Microsoft's decision to alter the user interface that users see by default. When it released Windows 8 all users were taken to the Start Screen when their device booted. Rumors now indicate that Windows will automatically detect whether a system has a touch screen and automatically take them to the Desktop if one isn't detected.
Microsoft has also reduced the amount of space a simple Windows installation takes up. During announcements last week it announced that it'd be lowering the minimum system requires for Windows tablets to just 1GB of RAM and 16GB of storage space. The change in system requirements should allow Microsoft's partners to ship devices with even lower price points.
Read: Microsoft Officially Talks Windows 8.1 Update 1
Microsoft is expected to make Windows 8.1 Update 1 available to users in April. Today's report from The Verge indicates users will see Microsoft release the update on April 8th.

As an Amazon Associate I earn from qualifying purchases.