Windows 8.1 Update 1: Is This the Upgrade Users Have Been Waiting For?
It may have taken longer than I would have liked, but the Windows 8.1 Update 1 upgrade finally makes Windows 8 tablets a best-in-class experience.
Many video outlets make their content available through apps in the iTunes Store or using HTML 5-based video players, however some still require a flash plugin. That's something the iPad just doesn't have.  Windows tablets do. If the coffee shop's WiFi is to0 slow, Windows tablet owners can also watch videos stored on their USB hard drives, flash drives and SD cards. Again, something the iPad just can't do.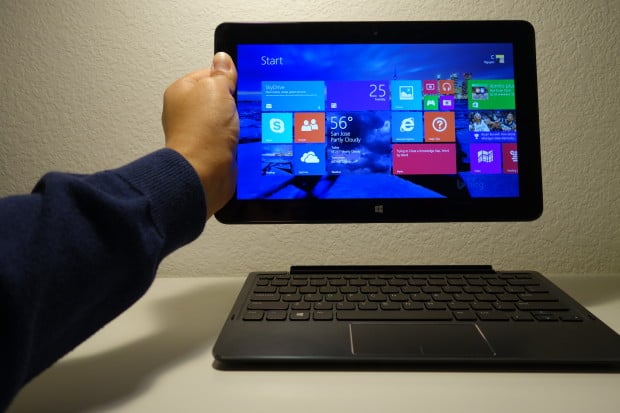 Every meaningful experience in Windows 8.1 is backed up with a touch-first experience that's been tailored for fingers and gestures. Changing settings is effortless and easy. Most Windows Store apps make for a great lean-back experience. There's Xbox Video for enjoying television shows and movies. There's also Xbox Music and reading apps for enjoying other kinds of content.
It's all there. Every experience tablet users expect.
Then there is the desktop. I prefer the Start Screen in most situations but there is no denying that the Desktop is the ultimate piece of work software in itself. Diving into the desktop immediately puts users in a more comfortable work-oriented environment.
Windows 8.1 Update 1 enables users to effortlessly move to the desktop when they need to. It makes Windows 8 more approachable for mouse and keyboard users by adding close and minimize buttons to every Windows Store app. Right click menus are present so that mouse and keyboard users can more easily find the necessary options in the Start Screen itself.
With Windows 8.1 Update 1, the Windows 8 tablet is a more approachable beast, one that doesn't compromise the user experience. iOS for the iPad and Android are decidedly mobile experiences, smartphone operating systems that Google and Apple will continue adding more features on top of to make them more productivity oriented. They both do a fine job at pretending to be work horses with new features like the Samsung Galaxy Tab Pro's multitasking screen and iWork for iPad. However, make no mistake, they're entertainment oriented devices that weren't originally envisioned as productivity devices. iPad users can only look at one application at a time, and the same restrictions apply to most Android tablets too.
Windows tablets finally have the features they need to be everything for everyone. A work device when necessary and an entertainment device when that's required. The iPad and tablets running Android just aren't playing at this level yet. Maybe someday they will but here today Windows tablets truly offer little to no compromises. Windows 8 tablets even support USB ports so pairing them with joysticks and printers is a simple as it could possibly be.
Windows 8.1 makes tablets wonderful because it addresses the concerns of a growing number of users. If tablets have any chance of seriously becoming the dominate device for all users, they'll need to comfortable stitch together both desktop and tablet experiences. Windows 8 with Windows 8.1 Update 1 does this today and makes Windows 8 far more functionally superior than other tablets.