Windows 8.1 Update 2 and Windows 9: Why All Windows Users Should Be Excited
Windows 8 users should expect another update this year to deliver even more features designed to make the operating system easy to use for those with a keyboard and mouse, just like what Microsoft delivered with Windows 8.1 and the more recent Windows 8.1 Update.
At least that's according to longtime Microsoft watcher Mary Jo Foley and information provided to the often accurate but anonymous WZor leaker. While the prospects of yet another update certainly won't come as good news to users who dread keeping their Windows 8 devices current, there is a singular reason for users to get excited. What WZor refers to as Windows 8.1 Update 2 will add a new Start Menu back to Windows sometime later this year, according to Foley.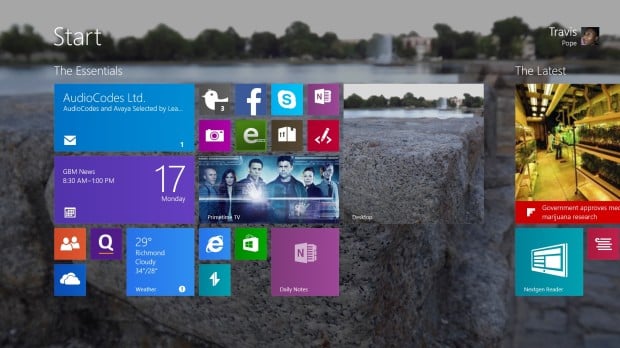 If it sounds like Microsoft is setting a new personal record for operating system updates, that's because if we do see Windows 8.1 Update 2 launch this August, it will have. Until Windows 8, Microsoft had been perfectly comfortable deploying large monolithic updates to Windows every three years or so. Starting with Windows 8, Microsoft transitioned Windows to annual updates and more recently released the Windows 8.1 Update just six months after it delivered Windows 8.1 for free to Windows 8 users.
Read: How to Get the Windows 8.1 Update
Microsoft showed off things coming to future versions of Windows at its BUILD 2014 conference last year. At the time, it showed a new version of the Start Screen that looked more like a Start Menu than the full Start Screen that dominates Windows 8. This new Start Menu still allowed users to open Windows Store apps and get real-time information from different app's Live Tiles. It's this Start Menu that Foley posits could make a return in Windows 8.1 Update 2. How Windows would decide whether to show the Start Screen or the Start Menu isn't yet clear. That update making it to users could be huge for Microsoft and finally silence Windows 8 critics once and for all.
Unfortunately, it's unclear whether the other crucial future Windows feature Microsoft showed off during BUILD 2014 will come as a part of Windows 8.1 Update 2. Around the time it showed off this new adaptive Start Screen/Start Menu, Microsoft also announced that future versions of Windows would decouple Windows Store apps from the Start Screen. Effectively, Microsoft is preparing to unleash Windows Store apps on the Desktop and finally give Desktop users one centralized place to download safe apps too. It'd be great if that feature made its way to users in Windows 8.1 Update 2, but most rumors have pegged it for possible inclusion in Windows 9, the next major release of Windows.
There's absolutely no official information on when Windows 9 might arrive or how Microsoft would get it into users hands. Following its historical cadence, Microsoft dived right into developing Windows 9 after Windows 8 became available on new devices in 2012. That being said, that's no guarantee that the operating system is coming soon. Clearly, the development schedule Microsoft is currently using is completely unprecedented. Foley says Microsoft is planning to finish Windows 9 in spring 2015.
Whenever it does arrive, it could be free to users. It's Wzor's claim that Microsoft will tweak the Windows business model and give away a base version of Windows to users absolutely free of charge. To add more features, users could need to purchase a subscription. That mirrors the new business model for Microsoft Office. Today, Microsoft does offer Windows RT to device makers at absolutely no charge. Presumably, a proper version of Windows 9 that comes complete with the ability install Desktop apps, wouldn't be free to users.
So why is Microsoft moving so quickly to deploy updates? It's likely that the company is making the changes in its release schedule for two reasons. First, Microsoft unified the team behind all of its operating systems last year. Dubbed the Operating Systems Group, it's the part of the company that's charged with creating Windows and since Windows is now used in just about every major consumer product Microsoft makes, the OSG has to keep enabling software features on different products quickly or risk getting left in the dust by iOS and Android. Logically, competing against the iPad is the most important reason these quick updates are necessary.
It's also worth noting that Microsoft needs to move quickly to address the concerns of PC users who still aren't satisfied with Windows 8.1 and Windows 8.1 RT, the operating systems that compete directly with the iPad.
The two operating systems are meant to bridge the gap between tablet and PC, however Microsoft's initial decision to force touch-centric apps and paradigms on all users caused a huge backlash from users who weren't fans of change and didn't appreciate Microsoft forcing new things on them. That backlash still exists, despite Microsoft having re-added the Start button in Windows 8.1 and dozens of small mouse-centric tweaks in the Windows 8.1 Update.