Windows 8.1 Update on the Surface 2: Review
Microsoft has released the "Update" for Windows 8.1 and it is now available for all users running that version of the operating system. Much of the focus has been on the changes made for keyboard and mouse users who apparently have been staying away from Windows 8 and 8.1 in such numbers that Microsoft felt such changes were necessary. Most of the changes, beyond the security updates that came with it on this recent Patch Tuesday, are indeed meant to make keyboard and mouse users happier. Or at least happier about the prospect of moving to Windows 8 or 8.1.
But what if you're one Windows tablet user? Specifically what if you are a Microsoft Surface 2 user? What changes do you see and which ones don't you see? Is the update worth all of the hype for those users? Well, before we go into details, keep in mind that Microsoft wants all Windows 8.1 users to update right away. Actually, let's rephrase that. If you want your Windows 8.1 machine to keep receiving updates after May 2014, you'll need to perform this update otherwise you're stuck where you are according to Microsoft.
Read: Windows 8.1 Why You Must Update
So if you're a Surface 2 (or other slate tablet) user you may be wondering why you won't see some of the new changes. The Surface 2 can be outfitted with a keyboard and a mouse, so what's the big deal? It has to do with how your tablet is configured by the manufacturer and the Power Platform Role. This setting is set by the manufacturer to determine its preferred power management profile. If a device is configured as a "Slate" in the Power Platform Role some of the Windows 8.1 update changes will not appear.
Boot to Desktop
You probably know that non-tablet users of Windows 8.1 now can boot directly into the Desktop and not the Start screen. Well, Surface 2 users will see the familiar Start screen when booting up by default. But you can still make a change to go directly to the Desktop if you wish to. Here's how:
First go to the Desktop. (You can't make this change from Change PC Settings interface.) Once on the Desktop press and hold or right click on an empty spot on the Taskbar. In the pop up that appears choose Properties. Then choose Navigation.
Under Start screen select When I sign in or close all apps on a screen, go to the desktop instead of Start. Until you change that setting you will boot into Desktop by default.
Power Button
One of the other changes made in the update was to put an easy to find power button on the Start screen for some PCs. The Surface 2 does not get this change. This is one place the Power Platform Role setting of "Slate" matters. The thinking is that it would be too easy for touch users on a "slate" to tap the control by accident. Don't worry Surface 2 users can still find the power button under settings on the Charms menu.

On the Surface 2 if you tap your account picture you now have a drop down menu that gives you the option to Change the account picture, Lock your screen, Sign Out of your account, or switch to other accounts.
Search Button
On all versions of Windows 8.1 a Search button now appears in the upper right corner of the Start screen. It works like Search in the Charms menu always did but now it is more obvious.
Tile Customization
How this works depends on whether or not you are using a mouse. If you are not using mouse tapping and holding a tile brings up an the familiar Customize bar at the bottom of the screen with Tile Options to Unpin from Start, Pin or Unpin from Taskbar, Uninstall, Resize, and Turn Live tile off.  If you're using a mouse, right clicking on a Tile brings up a familiar context menu with the same options.
Pin Metro or Modern UI Apps to the Taskbar
Surface 2 users can pin Metro or Modern UI Apps to the Taskbar on the Desktop. After installing the Update you'll notice that the Windows Store App is already pinned there.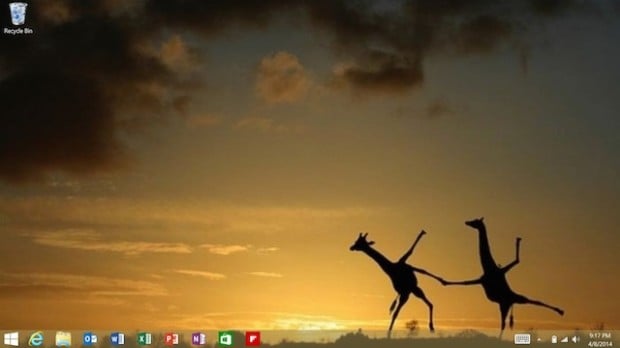 If you are on the Desktop and minimize that App you'll see a Windows 7 like preview pop up of the App. To pin a Metro or Modern UI Apps to the Taskbar for touch users simply press and hold the App until the Customize bar appears at the bottom of the screen and select Pin to Taskbar. If using a mouse, right click on a Tile and make the same choice from the context pop up menu.
Display Metro or Modern UI Running Apps on the Taskbar
There is also an option to display or Show running Metro or Modern UI Apps on the taskbar. Yeah, that sounds like the same thing but it isn't. This option (found under the Taskbar tab in Properties) is called Show Windows Store apps on the taskbar.
If you select this option, all Apps you have running on the Metro side of things will appear in the taskbar. You can also make this setting schange under the Change PC Settings from the Charms menu under App Switching. Note that if you select this option, closing an App will bring you back to the Desktop not the Start screen.
Title Bar Controls in Metro Apps
On the left is an icon that brings up controls allowing you to split (or snap) an App into a pane so that you can have multiple Apps open at the same time.
If you're using a mouse and bring your cursor to the top of an App's screen you'll see a title bar appear with controls both to the extreme left and right. On the right is a familiar X that closes the App. If you've selected to Show Windows Store apps on the taskbar you'll also see an option to minimize a window back to the taskbar. You won't see this option without selecting Show Windows Store apps on the taskbar. 
New App Install Notification
If you installed a new App under Windows 8.1 it didn't automatically pin itself to the Start screen, which was the original behavior in Windows 8. Since 8.1 you had to pin it to the Start screen manually. You still have to do that, but now there is a notification at the bottom of the Start screen that tells you how many new Apps you have installed.
Tap the notification and you go to the Apps screen. New App installs are highlighted making them easier to see, depending on how well the highlight stands out in the color scheme you have chosen. The notification on the Start screen won't go away until you launch the App.
PC Settings Interface Changes
If you swipe to bring in the Charms menu and choose Change PC Settings you'll see some tweaks and changes in the interface. First up there is new a link to the Control Panel link at the bottom of the main PC Settings page. There's also a much improved Disk space interface called App Sizes that lets you see how much free space you have on your drive. This tweak  allows you to easily see which Apps are filling up space. You can uninstall any App from this interface.
Bye Bye Skydrive
Skydrive is now gone and replaced by OneDrive. Intriguingly Microsoft changed this on all other platforms before it did on Windows.
Other Changes
This Update to Windows 8.1 came down along with security updates for both the Surface RT platform and security updates for the Microsoft Office apps as well. The Windows 8.1 update has been talked about for some time and most of the changes were well talked about beforehand, so there are no surprises here. Surface 2 users who rely primarily on touch and don't use a mouse won't even see some of the changes chronicled in this post. But then, Surface 2 users most likely purchased their devices because they wanted a touch tablet in the first place.
Whether these changes will make it easier to transition users afraid of the big change that is Windows 8 and 8.1 is an open-ended question. Semiotically these new changes aren't as visually apparent as the broad changes that the Windows 8 brought us. And with that abrupt visual, much less operational, change still fresh in users mind we'll have to see if the changes Microsoft made pay off or not.

As an Amazon Associate I earn from qualifying purchases.