Windows 8.1: Why Microsoft Needs to Bet Big on Phablets
While there is chatter that Microsoft will be allowing its smartphone partners to scale up with the next build of Windows Phone, Microsoft really should be thinking about scaling down its Windows 8 platform to fit smaller phablet-sized screens. With Windows 8.1, the company is now allowing tablet-makers to create smaller 7- and 8-inch slates, like Acer's recently unveiled W3 tablet at Computex, but such a size reduction poses too many compromises without enough gains for the form factor. Instead, an even smaller 5- or 6-inch phablet may present even more compromises, but the upsides for consumers would be plentiful, including the ultra mobile PC form factor, having one device that when docked can span phone and desktop PC, and having the full power of Windows in your pocket.
The UMPC Evolved
A 5-inch Windows device? That sounds familiar. In fact, a few years ago, Microsoft and its hardware partners were championing the idea as UMPCs, or ultra-mobile PCs. At the time, the technology wasn't there, the costs were too high, and the project never took off with consumers.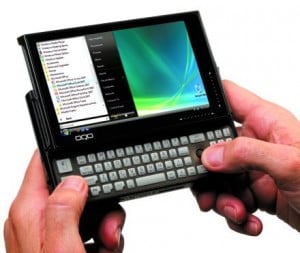 For starters, in classic desktop mode, everything was too small and the use of the device often called for a resistive stylus that registers pressure for input on the display. Processing technology wasn't up to par and the devices were battery hogs, ran hot, and were slow. Moreover, Windows didn't have the tiles-based UI for finger-friendly operation that Windows 8 ships with today, so the user experience on the Windows side wasn't up to snuff either. On top of that, displays at the time were capped at a paltry WVGA resolution, meaning you're not getting a high resolution experience.
Today, Intel's new Atom processors are providing the computing equivalent of a 2010-era MacBook Air and are more power conservative. Screens on the 5-inch form factor are now at 1080p HD, which is in excess of most Windows devices on the market, and Windows now is optimized to be more touch-friendly.
Most of the negative things that plagued the UMPC have been resolved thanks to the evolution of technology in recent years.
A Market Dominated by Samsung
And while there are devices in the market at the 5-inch or even pushing the 6-inch form factor, the phablet market is largely unchallenged with Samsung the clear winner. Thanks to the Wacom-powered S Pen digitizer, the Samsung Galaxy Note experience lends to both a lean back consumption experience as well as a lean forward content creation experience.
And despite Samsung's dominance, there are still things that Android doesn't do well and Microsoft could excel. For one, the Android experience on a phablet is largely still an Android experience catered for a smartphone display that's blown up and stretched out. It's what the Android experience used to be on a tablet. Users cannot force apps to load in tablet mode to take advantage of the extra screen real estate or a higher resolution display.
For example, with the CNN app, the experience on a tablet is more elegant and takes up the display nicely with columns for content. On my Galaxy Note 2, the app runs like a smartphone app, which is just a blown up app that's stretched out and doesn't make use of the screen space all that well.
As apps designed for Windows 8 are built around the Metro UI experience with Live Tiles, apps are already designed for tablet displays that could scale according to the resolution of the screen. Microsoft could give phablet users a more rounded experience if it scales down Windows 8 to a smaller screen as users could take advantage of the tablet experience while having a portable, pocketable form factor device.
Why Windows 8 Isn't Succeeding On Other Form Factors
It's hard to convince consumers to buy a Windows 8 tablet at this time, despite Microsoft's marketing claims that the tablet could become the only computing device in your house as you won't need to use a PC and a tablet anymore. Part of the reason is that tablets are still viewed by consumers as largely a content consumption device, and the lack of a robust ecosystem is a huge drawback for Windows 8 adoption. This is largely why Surface RT isn't succeeding.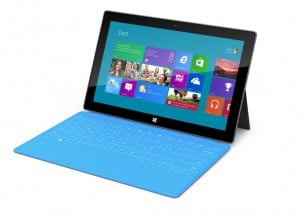 On traditional notebooks, Windows 8 is still best used with a touchscreen and it may not make sense for users to upgrade to a system right now that doesn't have a touchscreen while legacy owners may be wary of the experience of reaching towards a touchscreen display from the keyboard as it may slow down their work flow.
On the tablet side, the lack of an ecosystem will still be apparent with a smaller 8-inch display. The constraints are still there, but now you're losing screen real estate with the same downsides when compared to the iPad and Android slates.
Windows On a Phablet
The phablet experience will at least give users the added benefit of voice calling and always-on data through 3G or 4G mobile broadband networks. This places a Windows phablet on par with a smartphone. Additionally, while the size constraint will be magnified from a user experience perspective in classic desktop mode, the obvious portability of this form factor will be a good upside for consumers. Here, consumers can use just one device for all their computing needs–from phone to tablet to desktop–with the right docking accessories. No more data to manage and sync as you're using one device for everything.
Additionally, users may not even be bothered with the classic desktop mode that much if they only occasionally use it. It'd be the same as pro users using a remote desktop application to access their home or work PC. Here, you're accessing your phablet, and you won't even need to do this unless you want to. But having this classic desktop layer is a good selling point. For creative professionals who need a photo editing suite, or for enterprise users who need the desktop edition of Microsoft Office, this will be a big productivity tool.
And when users are at their desk, they can connect to a desktop display via WiFi or HDMI and have all this information on a larger, more user-friendly display.
The biggest draw is that no matter if you're at home or on the go, you'll have a Windows experience that's customized to the display and screen size that's available. This provides far better utility than a Windows Phone experience stretched to a larger display, which would be akin to how Android works on the Galaxy Note 2.
New Atom processor, high resolution 1080p HD displays, 4G LTE connectivity, productivity apps in classic desktop mode, and a lean back consumption experience mode through Metro UI are all ripe for Microsoft to enter the phablet arena.