Windows 8 Coming in 2012 to Usher in Separate Tablet, Slate Categories
Slates and tablets may be used interchangeably in 2011 to describe one touchscreen form factor on a larger-sized touchscreen befitting of the category's moniker, but in 2012 when Windows 8 systems begin to ship, they'll have separate distinctions. Addressing a crowd of developers in Japan, Microsoft's Steve Ballmer referred to the next-generation desktop-class operating system as Windows 8, and said that the OS will be shipping in devices next year. This marks the first time that Microsoft had publicly given a time frame for the operating system, which is due to take on Apple's Mac OS X Lion, and also is the first time that the OS is referred to by name.
"We're obviously hard at work on the next version of Windows. Windows 7 PCs will sell over 350 million units this year. We've done a lot in Windows 7 to improve customer satisfaction. We have a brand new user interface. We've added touch, and ink, and speech. And yet, as we look forward to the next generation of Windows systems, which will come out next year, there's a whole lot more coming. As we progress through the year, you ought to expect to hear a lot about Windows 8. Windows 8 slates, tablets, PCs, a variety of different form factors."
Windows 8 will continue to support Microsoft's 'tablet PC' features that brought excellent inking to the market, and later added touch and voice. Ballmer says that they have added "touch, and ink, and speech" to the OS. What's curious though, is that the Microsoft head made a distinction between slates and tablets among the "variety of different form factors."
In the past, Microsoft had said that it would be utilizing the slate category to refer to its Windows Embedded Compact operating system to differentiate the category from full fledged tablets. The Windows Embedded Compact slates are geared more towards content consumption, and may be positioned more competitively against rivals from Android and iOS. Tablet systems, then, would be more full featured systems.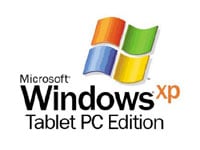 The company worked with HP to release the Windows 7-powered HP slate as the HP Slate 500. That machine utilized the Intel Atom CPU, but runs the full Windows 7 OS and bears slate in its proper mark, not just as a computing category. Hopefully, we'll know more about the distinction between slates and tablets in the future to avoid confusion as Microsoft evolves its tablet PC heritage to compete more effectively against consumer tablets, of which Apple's iPad is the market leader today.
Microsoft is expected to release the first beta of the OS in the fall and machines are expected to ship by holiday season. A release to manufacturing version is anticipated by mid-year 2012.
Via: ZDNet

As an Amazon Associate I earn from qualifying purchases.