Windows 8 Event Planned for October 25 in New York City
Microsoft will launch Windows 8 on October 26, but it has a launch event scheduled for the day before in New York City.
According to The Verge Microsoft sent out an email to some members of the press, inviting them to the Windows 8 launch in New York City on October 25. There aren't many details about the event, as the invite simply asks those invited to save the date of October 25.
The event coincides with recent rumors of a midnight launch of the Microsoft Surface tablet. Microsoft hasn't made any announcements of the Surface price yet, but we do know that it will release on October 26 alongside what is likely a plethora of other Windows RT and Windows 8 laptops.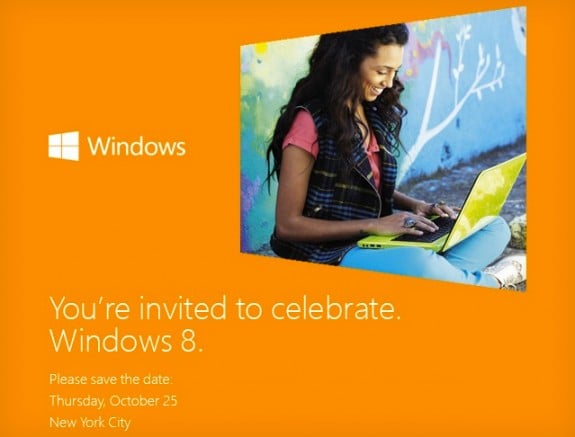 So far we know the Surface will have a Keyboard Cover, will run Windows RT at release with a Windows 8 version coming 90 days later. The device will also use Microsoft's Smart Glass to interact with Xbox 360 games like Halo 4.
While the Surface is one of the most exciting Windows 8 devices, companies like Lenovo, Sony, and Samsung also have new tablets running Windows 8 and Windows RT. We don't know when those companies will release their new tablets, Ultrabooks, and notebooks, but we assume many of them will release on October 26 or shortly thereafter.
The Windows 8 launch event likely won't have any mention of Windows Phone 8, as Microsoft is still trying to nail down a release date for the mobile OS. The latest rumors say Microsoft is aiming for an early November release of Windows Phone 8. The launch announcement for the platform could come a week after the Windows 8 launch event.

As an Amazon Associate I earn from qualifying purchases.