Windows 8 is the New Windows Vista? That's a Bad Thing?
By now everyone will have read the reports of internal Microsoft teams comparing its latest operating system, Windows 8, with Windows Vista. For those who don't know much in the way of Windows-related lore here are the details.
Released in 2006, Windows Vista was the successor to Windows XP. Although it had originally planned to move on from Windows XP with a very forward-thinking operating system with next-generation file management features and more, Microsoft was forced to cancel that project and begin anew. That replacement project became Windows Vista. Although it introduced dozens of new features, including a refreshed Windows interface and huge list of Microsoft-made utilities for managing photos, videos, mail and more, it never escaped its reputation as a bad operating system.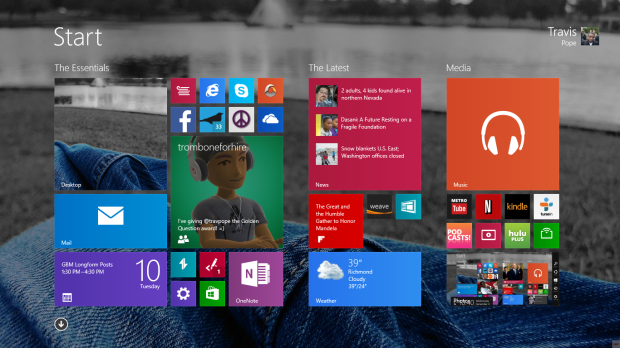 It's that baggage that industry watchers and users who aren't fans of its new interface, app store and more are looking to heap on Windows 8. I get it. The notion to relate to a product based on experiences with other products is irresistible. Its how people relate to things they don't understand.
Read: Even Microsoft is Labeling Windows 8 as the New Vista
Look. I'm not saying that Windows 8's new interface isn't sometimes strange to use, and I'm certainly not guaranteeing every Windows 7 user would like Windows 8 if only they gave it a chance. Such declarations are useless, people are going to go with their immediate gut feeling.
The problem here is that, like with Windows Vista, it's a complete mischaracterization of reality.
Windows Vista received no end of criticism for hardware drivers for printers and devices not working with it. That'd be a fair criticism if it was the operating system's fault. Unfortunately, many people seem to forget that it was actually hardware makers who failed to create Windows Vista era divers for their hardware despite them having been notified about changes years in advance.
It also received no end of criticism from people who were fans of Windows Access Users Control, a pop-up that would ask user's for permission before changing features on their computer. UAC was a reaction to the rampant security issues that plagued Windows XP. It may have annoyed users a bit too often, but it kept them safe. The operating system also introduced tons of quality of life improvements like a centralized back up system and centralized search.
The parallels of the two operating systems are very similar. Windows Vista was vilified for the decisions hardware makers made. It ran slower on entry-level machines thanks to Hp and others putting it on hardware that wasn't equipped with the horse power it required. Like Vista, Windows 8 suffers at the hand of Microsoft's hardware partners. It's these partners that force crappy apps to the Windows 8 Start Screen. It's these hardware makers that insist on not cleaning up their touchpad drivers so that using gestures in Windows 8 isn't as satisfying as it should be. Its also these hardware partners that load Windows 8 on half-baked convertibles and tablets without any accessories or ecosystem to speak of.
Windows 8 introduces things that make the Windows platform better. Its centralized app store ensures that user's apps travel with them. SkyDrive puts user's settings and files at every user's finger tips. Its back up utilities allow it to save the user's files and refresh Windows to factory settings without having to back up that information to an external hard drive first. Yes, Windows 8 does embrace touchscreens along with keyboards, mice and other input devices too.
If Windows 8 is Windows Vista and to be considered a failure, it's not because of the operating system itself. It's because of the failure of Windows buyers and Windows machine makers to grasp that progress is a good thing. If Windows 8 is a failure, it's because of everyday men and women embracing progress and new interfaces with an Apple logo, but failing to understand that to stay relevant and to stay modern they must sometimes use new interfaces and allow software makers to create new paradigms on the PC.
If Windows 8 is the New Windows Vista then it's also because of Microsoft's failure to educate users on the features and benefits of Windows 8 versus previous Windows products.
What's sad is that Microsoft will likely do to Windows 8 what it did to Windows Vista. Repackage it, as it did Windows Vista with Windows 7, and users will flock to it in droves.

As an Amazon Associate I earn from qualifying purchases.