Windows 8 on ARM Shows Weakness, Not Strength
No support for current Windows applications. Office is still desktop-only. Windows on ARM (WOA) is a compromised "no-compromise experience" at a time when Microsoft needs to show more strength.
I am referring to the new details out of Microsoft regarding Windows on ARM, the version of Windows 8 that will run on low-powered ARM processors. People were hoping this could bring the power of Windows in an iPad-like form factor. Instead the best we're going to get is a Windows-like environment on a tablet. Yay.
"Real" Windows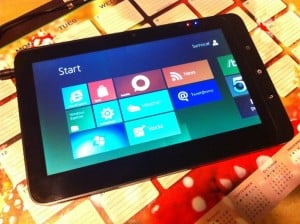 First and foremost, WOA isn't "real" Windows. By that, I mean no support for those thousands of applications that currently run on what people know as Windows. No support for emulation or porting either. Any existing app will need to be coded from scratch for the Metro environment in WOA. It's a separate member of the Windows family, like Windows Phone.
No, wait, comparing WOA to Windows Phone is imprecise. It sounds more like an update to Windows Embedded Compact 7. Remember Window EC7? It was previously promoted as an option for Windows tablets, but then scrubbed away before it was ever realized. The difference is they have the Metro interface now, but it's still an embedded solution, not "real" Windows.
No Office for Metro
But at least the embedded solution is reasonable from a technology standpoint. If Microsoft hadn't been so coy on the issue, no one would have expected WOA to be compatible with existing Windows applications. What's inexcusable is that Microsoft Office isn't going to support Metro.
Now, I'm not going to say I didn't expect this, but the fact that Office has to be entirely recoded for WOA anyway really leaves no excuse for not supporting Metro. Microsoft is betting huge on this interface. The future of the Windows operating system is riding on the success of Metro. One would expect the Office team to support the company on this, yet they still won't budge from the desktop interface. In fact it seems like Office is the only reason WOA is even maintaining a desktop interface since there's no apparent path for other application support. Yes, they're improving the touch interface in Office for WOA, but it's still a public vote of no-confidence for Metro at a time when MS is trying to promote Metro style apps.
I and plenty of other long-time Windows tablet users have said time and time again that the lack of Office support strangled early Tablet PC efforts. Former Microsoft VP Dick Brass cited this as an example of how internal conflicts at Microsoft derailed innovation. If I wasn't so used to seeing this stupidity repeat itself, I'd find the situation unbelievable. Instead I simply find it unbearable. No Office for Metro is a failure of leadership on Microsoft's part, even more conspicuous than what happened with Tablet PCs.
Another OS mouth to feed
What's really sad about all this is that most of what they're actually promising with WOA is already available on Windows Phone. Not using Windows Phone as the basis for WOA seems incredibly short-sighted. The main difference is the desktop for Office, but that had to be rebuilt for ARM anyway.
Basically Microsoft is adding yet another operating system to their family of consumer products. There's Windows for PCs, XBox for home entertainment, Windows Phone for phones, and now WOA for tablets and other devices. Granted, you can still use "real" Windows for home entertainment and tablets, but Microsoft's product strategy is one that is increasingly fragmented.
In many ways, it's like 2005 all over again when there were different editions of Windows XP for Tablet PC and Windows Media Center, but without compatibility with the vast Windows app library. Microsoft is trying to bridge that gap with Metro, but it's got no history backing it, nor does it have the support of Microsoft's own flagship product.
I previously called Office for Metro the "last mile" in making Windows 8 work, a chance for them to lead by example in getting developers on board with Metro. Now it is still possible that Windows 8 will reverse Microsoft's decline with PCs and tablets, but without Office for Metro, it's a far less daring, much less bold move than I think they need.