Windows 8 Tablets: Microsoft Hosts a Game of Musical Chairs, But Will Taiwan Be Left Standing Alone?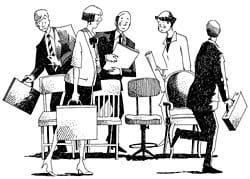 As part of the company's strategy to not only accelerate development of its forthcoming Windows 8 operating system, but also to ensure that everything works according to plan, Microsoft had implemented an Integrated Development Program consisting of PC and tablet-makers as well as chip companies. The Apple-like approach to restrictions to ensure a better, tightly integrated user experience has, however, left one group of PC-makers from Taiwan questioning if they are even relevant to Microsoft and its platform and further dissension could spell trouble for Microsoft, a company that is still trying to gain relevance in the tablet space.
In its game of musical chair, Microsoft is asking that chip providers–including Intel, NVIDIA, Qualcomm, AMD, and Texas Instruments–find just one or two hardware-maker and work exclusively with. According to a report by Bloomberg, which had been tipped by several people familiar with Microsoft's plans, the company is asking chip-makers to find one manufacturer to work with for tablets, and a second manufacturer can also be selected for a traditional clamshell notebook form factor.
The program isn't mandatory, and chip-makers who want to be aggressive and pursue multiple computer-makers can opt out of the program, but not being part of the IDP would limit these companies from having early access to Windows 8 for an early-to-market advantage. What's still yet to be answered in this game of match-making is what happens the computer-makers not chosen by any chip-makers and what happens if multiple chip-makers choose the same computer-maker?
Well, the former question is being asked exactly as is as Taiwan-based companies–many of them high-profile–are not even eligible for Microsoft's IDP. According to DigiTimes, Taiwan's computer-makers are feeling burned as Microsoft's program only extends to computer-makers such as Dell, HP, and Samsung. The list excludes Asus, Acer, and HC–traditional and long-time Windows partners based in Taiwan.
The puzzling thing about this exclusion principle is that these Taiwan companies already have strong ties to rival Google's Android operating system. Asus, which had launched the Asus Eee Pad Transformer to great success for the features that the Honeycomb tablet offered at the low entry price point, should be wooed by Microsoft to make Windows 8 tablets considering that the competing ecosystems are already getting off to a good start. Acer, which launched a similarly competitive Android-powered Iconia Tab A500 is finding itself in the same boat and long-time BFF HTC on the mobile side is also said to be left standing alone once the music stops.
Before the Windows 8 announcement at Dow Jones' All Things D Conference, Acer head JT Wang was already vocal about his displeasure for the new Microsoft rules, although he didn't explain in any details as to why. Wang says, "They're really controlling the whole thing, the whole process," noting that the new decisions were "very troublesome."
Also absent from the list is Lenovo, which had built one of the strongest enterprise-targeted tablet PCs in the market under the ThinkPad brand and is the leading computer brand for the enterprise space. Japan's computer-makers with a tablet PC history were excluded as well, including Toshiba and Fujitsu; Sony didn't make a tablet PC and was more focused on the consumer space.
On the opposite side, Microsoft has an uphill battle to fight. It is migrating, or rather now adding a choice for, to a new chip set. Traditionally built for Intel and AMD architectures, Windows 8 will also be available for the ARM experience, and in addition to regular–what is known as legacy apps–programs on Windows, Microsoft is also looking to support web apps and light apps for the tablet with its Live Tiles, borrowed and ported from the Windows Phone 7 Metro UI. Migrating to a whole new experience with new architecture will be risky, and Microsoft will want to try to control its risks to some degree by limiting early access to create a solid build that will enter the market looking polished.
However, that said, the company's choice of partners is troubling. HP, which is already making an aggressive push on the consumer side with its own webOS ecosystem may not be the best partner as the company is perhaps an equal partner as it is a rival to Windows slates. The other oddity, is already mentioned, and that is why Microsoft is not trying to woo partners who have now begun to build for rival Google's platforms and win them over.
In response to some dissension by the Taiwan community, Microsoft will be hosting a Partner Preview on June 2nd, inviting those companies to voice their concerns. It's unclear if they'll be given a seat at the end of the musical chair game, or if they'll still be standing…not alone, but with a giant green robot by their sides.

As an Amazon Associate I earn from qualifying purchases.