Windows 9 Reveal Coming on September 30th
With leaks of its Windows 9 operating system coming at a steady pace, many suspected it was only a matter of days before Microsoft would begin inviting the technology press to an event to reveal the operating system. Now Microsoft has done just that. This week the company sent out invitations for an event that don't offer much in the way of aesthetics, but do confirm that it's ready to talk about what comes after Windows 8.
Microsoft starting sending out invites for what is expected to be its first set of Windows 9-related announcements late Monday. The invite in question is pretty barebones. In it Microsoft asks journalists and industry experts to come and "hear about what's next for Windows and the enterprise." The invitation itself is just white text on a blue background with the date and company logo.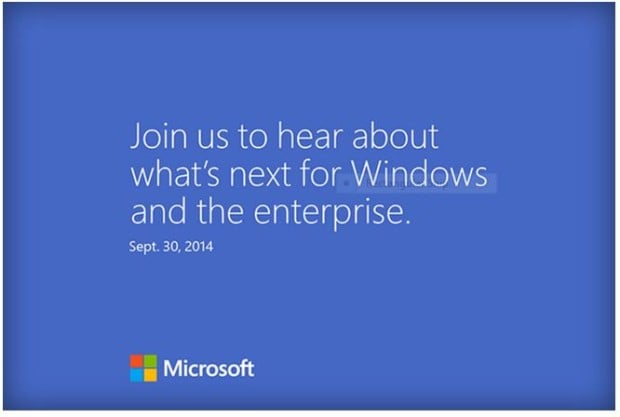 Many are jumping to the conclusion that Microsoft has plans to reveal Windows 9 at the event, simply based on the amount of leaks and chatter about the operating system there has been in the last couple of months. As the invitation reveals though, that may not be Microsoft's plan entirely.
In name-dropping "Windows and the enterprise," it seems that Microsoft is trying to tamper expectations for the event a bit. What that could mean for the entire reveal remains unclear, but longtime Microsoft watcher Paul Thurrott believes the company could hold two separate events. This first event would focus on business customers and getting Microsoft's new message across to those buyers. Allegedly, a second more consumer focused event could come later.
For Microsoft and for Windows 8 users, the stakes will never get higher than this Windows 9 event on September 30th. Since releasing Windows 8, sales of traditional Windows devices, like desktops and laptops – have stabilized. That being said, Microsoft's share of new computing markets like smartphones and tablets is still in a bad place. The Surface tablets the company produces seems to have grown steadily, but they still aren't coming close to sales of Android tablets and iPad sales. Part of that is that Microsoft's partners only recently went after low-cost tablets in phones in a big way.  The other part is that it doesn't seem like the Windows 8.1 update went far enough in addressing the very real usage concerns of potential buyers.
Everything we know about Windows 9 indicates that the operating system will be a sort of peace offering. Earlier this year Microsoft confirmed that it would add a Start Menu with Live Tiles to the Desktop for users who don't have touch. It also revealed that it planned to decouple Windows Store apps from the Start Screen. What that means is that users will be able to use apps like Xbox Music from their Desktop.
Since Microsoft made those announcements leaks from unofficial sources have also helped wet user's appetite for Windows 9. Cortana, the voice activated personal assistant that made her way to Windows Phone 8.1 earlier this year is coming to all Windows users in Windows 9. Allegedly, so is Storage Sense, an app that breaks down the amount of storage different apps and services use in Windows Phone. Multiple Desktops are also expected.
Read: Leaks Confirm Windows 9 is a Start Menu Lover's Dream
A lot of what we don't know boils down to semantics and release details. For months it's been rumored that Microsoft plans to let users download a Windows 9 Technical Preview after this September 30th event. Even if that's true, absolutely no one is expecting Windows 9 to be available to normal users before 2015.
We also don't know how Microsoft plans to distribute this update. As the Windows 8 upgrade was more large set of feature updates and bug fixes, Microsoft gave it away for free. Windows 9 is expected to be a huge operating system update. Those are something Microsoft usually charges for.

As an Amazon Associate I earn from qualifying purchases.