Windows Blue Leaked Online Brings New Features to Windows 8
The long rumored Windows Blue update for Windows 8 users that's speculated for a release later this year has appeared as a leak online. In a series of leaked screenshots, we're seeing some enhancements to the Windows 8 ecosystem that's delivered by the Blue software update, but not any dramatically new features. And like rival Apple, Microsoft is bringing some of the innovations introduced form its mobile Windows Phone OS to its desktop Windows 8 OS through Blue.
One of those innovations is the ability to swipe between the Start Screen and the apps screen. This allows users to quickly move between the Live Tile interface on the Start Screen to the screen that alphabetically lists all the apps installed on the system.
Images of some of the changes introduced by Windows Blue have been posted on Neowin. 
Additionally, users can now re-size and have more customization over the Live Tiles. Users can make the tiles larger or smaller and can also change the colors of the tiles to fit their own customization of the OS.
And more significantly, Microsoft is now allowing more multitasking to be down with Metro UI apps, or the new apps that are part of the Windows Store. Users can run apps side-by-side and adjust the widths of the app. This was a feature that was enabled on Windows 7 with the classic desktop apps, and now it seems that the HTML5-styled Metro UI apps can take advantage of this as well. This will allow users to focus on several tasks and not have a clutter of windows, but allows for more content to be displayed rather than the current implementation of a single full-screen Metro UI app, similar to what's enabled on Apple's competing iPad.
The feature can also be extended to support displaying 3 or 4 apps in a single view as well.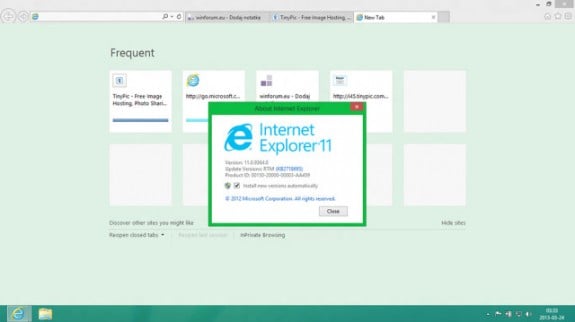 New to Blue would be the Metro UI version of Internet Explorer 11. Windows 8 also supports the classic desktop mode–what you see on Windows 7–and that desktop mode also can have its own desktop Windows 11 program as well. It's a bit confusing, but IE 11 on the Metro UI side allows for better touch functionality.
There will also be new Charms to Windows Blue, including one that allows easy screenshot capture.
Blue is expected to be a relatively cheap software update in an effort to boost adoption rate for the Blue package. It's expected to debut by the end of the year, and there's also been a Windows Phone Blue software update as well to coincide with the desktop OS update.

As an Amazon Associate I earn from qualifying purchases.