Windows Home Server – beta request time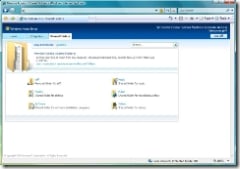 One of the things that really ignited the blogosphere at CES was Microsoft's announcement of Windows Home Server. Up until Tuesday, the beta was in "invitation mode" only. Microsoft is now accepting applications to beta test Home Server. Not everyone will be accepted, but it doesn't hurt to put your name in if you are interested in beta testing this new technology.
From what I've read, this appears to be some great technology for those of us who are frequenly mobile with Tablet PCs / UMPCs and needing to keep our mobile data backed up and in sync with a server at home.
Paul Thurrott has been on the forefront of this story form the beginning:
I'm excited about Windows Home Server in a way that I haven't been about technology since the first time I laid eyes on Windows Media Center ("Freestyle"), back in early 2002. Enthusiasts are going to eat this thing up, and once more typical consumers catch on, I suspect Windows Home Server is going to find a huge market indeed. And that's a good thing: Windows Home Server looks like a winner, and I can't wait to get this thing up and running in my home.
You can put your beta request in here. Then, check out the Windows Home Server blog. WinSuperSite has a great preview of Windows Home Server and the value it can bring to your home. There is also a pretty active support forum for beta testers.
Thanks to Scott Hanselman for the linking info. Image courtesy of Microsoft via WinSuperSite

As an Amazon Associate I earn from qualifying purchases.