Windows Insiders is How Users Could Get Free Windows 10
It appears that participating in Microsoft's Windows Insiders Program has some perks beyond getting to test Microsoft's Windows 10 operating system before everyone else does. Microsoft says it plans to effectively give away free Windows 10 upgrades to users who participate in the Windows Insider program.
Microsoft's Gabriel Aul revealed the free Windows 10 upgrades in a single message on Twitter. The news was in a reply to a question asked by a Windows Insider interested in participating in the program. The user asks if users "will be able to upgrade to the [Windows 10] RTM version for free with [the Windows Insiders] preview?" Aul doesn't mince words, simply replying "yes."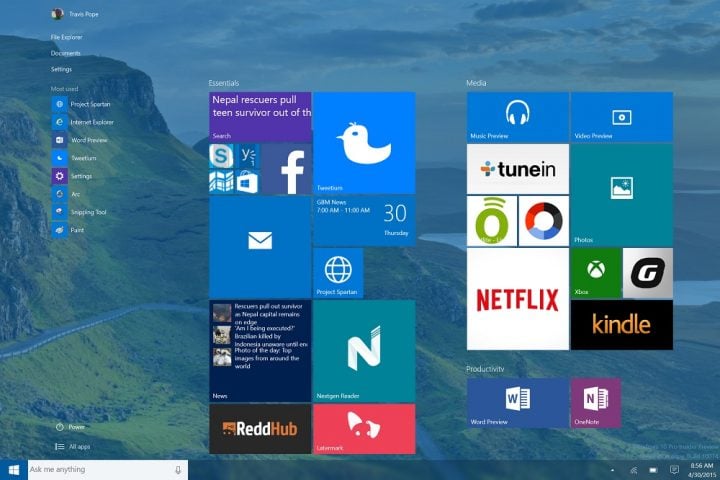 @tao_huan Yes

— Gabriel Aul (@GabeAul) May 10, 2015
"RTM" is a term Microsoft uses identify when an operating system is mostly done. It stands for Release To Manufacturing; it's a relic of the days when releasing a new operating system required Microsoft to print discs.
Gabriel Aul is the public face of the Windows Insiders Program. Microsoft lets Windows Insiders download early versions of Windows 10 to test against their notebooks, desktops, 2-in-1s and smartphones. Having the new operating system in the hands of users allows Microsoft to make changes based on the feedback it gets before releasing Windows 10. Microsoft uses a similar program to get feedback about forthcoming Xbox One and Xbox 360 updates.
The big story here is the confirmation that some users will get Windows 10 completely free. Earlier this year, rumors swirled that Microsoft would hand out free upgrades to Windows 10 for each user running Windows 7 or Windows 8.1. That announcement had longtime users fuming since, theoretically, even users who'd loaded stolen copies of Windows onto their machines would get the benefits of Microsoft's latest operating system. If what Aul is saying is true, Microsoft is leaving another way for pirates to get free Windows 10.
If everyone who signs up and downloads the Windows 10 Insider Preview gets to upgrade to the final version of Windows 10 for free, absolutely anyone could sign up and claim their free upgrade. Microsoft makes entire installation files, called ISOs, available on its Windows Insiders website for all to download. Users simply need a flash drive large enough to store the operating system for installation purposes.
Most PC users think that the version of Windows running on their computer is absolutely free. In reality It's not, Microsoft sells Windows directly to device makers. Device makers then include the price of Windows in their PCs. The only time users see the real cost of Windows is when they don't have any restore media, upgrading from an older operating system or are building a new PC on their own. A boxed copy of Windows 8.1 costs $105 at Staples. For most, that's a lot of money for something they take for granted.
Giving out free Windows 10 upgrades and installs to Windows Insiders is a pretty unorthodox move that makes sense on some level. With changes like the refreshed Start Screen that turns into a Start Menu, a new emphasis on the Desktop and a refreshed Windows Store, Microsoft is hoping to appeal to the broadest base of users possible. If Microsoft is to get Windows back on firm ground, it'll need influencers spreading the word about the operating system. There's no better way to reach out to influencers than with a free copy of an operating system they have to do a little work to get. It's also worth noting that this loop hole means Windows Vista users could get a free Windows 10 upgrade too, theoretically.
Read: Windows 10 10074 – What's New & Different
Microsoft's public relations team has yet to confirm that free upgrades for Windows Insiders are coming, but it's hard to imagine that Aul would speak publicly about upgrades if the company didn't already have a plan in place.
We already know that Windows 10 is coming as a free update to Windows 8.1 and Windows 7 users who have legitimate copies of Windows installed on their PCs. Microsoft plans to start inviting users to download the free upgrade sometime this summer.

As an Amazon Associate I earn from qualifying purchases.