Windows Live Mesh Beta Updates and Adds Mac Client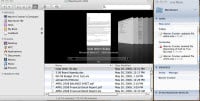 Rob alluded to this the other day, and it looks like it is literally happening as I blog this. Windows Live Mesh is in the process of updating and in that process I've noticed that the Mac Client is now available. Supposedly this means that the Beta is now open, or is about to open up as well. There is also supposed to be support for a Windows Mobile client, but I don't have one of those devices handy at the moment to check that out.
UPDATE: According to ReadWriteWeb Microsoft is only allowing a limited number of Mac Clients onto the Mesh at first, and the Windows Mobile Client for 6.0 and 6.1 is now available.
That said, I have the Mac Client up and running on my iMac and all seems to be operating well at the moment. I've also installed Mesh on the Lenovo ThinkPad X61 running Windows 7 and see no issues there either as everything is syncing across just fine.