Windows Mobile 6 officially announced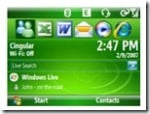 Microsoft officially unwrapped the worst kept secret and officially announced Windows Mobile 6 at the 3GSM conference. Here is the press release and a link to the Microsoft Windows Mobile 6 Fact Sheet.
Microsoft Corp. today unveiled Windows Mobile ® 6, the newest version of its mobile software platform. By improving usability and adding support for Microsoft ® Office features previously available only on PCs, Microsoft Windows Mobile 6 delivers to the small screen a familiar and rich experience that meets the needs of work and life while on the go, all with a single device.
""A work force that is both mobile and connected is becoming essential for business success," said Steve Ballmer, CEO of Microsoft. ""That's why we're integrating innovative mobile technologies into all our key products, with Windows Mobile as the centerpiece."
Windows Mobile 6 delivers the ability to view e-mails in their original rich HTML format with live links to Web and SharePoint ® sites, which means text and images are displayed as they would be on a PC, and are available from a corporate e-mail server such as Exchange Server 2007, from Web-based accounts such as Windows Liveâ"¢ Hotmail or from a myriad of other popular service providers. Windows Mobile 6 also includes Windows Live for Windows Mobile, which provides customers with a rich set of Windows Live services. For example, now through Windows Live Messenger, people can chat with more than one person at one time, express themselves through animated figures, quickly send a file or image, or record and send voice notes.
The newest version of the platform offers the most genuine Microsoft Office system experience in the mobile versions of Office Outlook ®, Office Word, Office Excel ® and Office PowerPoint ® by bringing capabilities once available only on the PC versions of these products to the small screen. This allows users to neatly view, navigate and edit Word documents and Excel spreadsheets in their original formatting, without affecting tables, images or text, and to view PowerPoint presentations on their device.
All Windows Mobile 6 powered devices include Direct Push Technology for up-to-date e-mail delivery and automatic synchronization of Outlook calendars, tasks and contacts through Microsoft Exchange Server. Windows Mobile 6 also offers a set of important device security and management features that include the capability to remotely wipe all data from a device should it be lost or stolen, helping ensure that confidential information remains that way.
Broad Industry Support to Result in Broader Choice of Devices
By the second quarter of this year, the world will see the first Windows Mobile 6 powered devices available on the market. In Europe, Orange plans to deliver the SPV E650 smartphone from HTC, and in Japan, SoftBank Mobile Corp. will offer new devices from Toshiba and HTC. And in the United States, the popular T-Mobile Dash will be updated with Windows Mobile 6 and be available in the coming months. Current T-Mobile Dash owners will also be able to upgrade existing devices with Windows Mobile 5.0 to Windows Mobile 6.
Scores of additional mobile operators and device makers from around the globe, including Cingular Wireless, now the new AT&T, Chunghwa Telecom, Dopod International Corp., HP, LG Electronics, Motorola Inc., Palm Inc., Samsung, Sprint, Telefónica, Toshiba, Verizon Wireless and Vodafone, plan to ship Windows Mobile 6-based devices this year. Many of these partners are expanding large existing portfolios of Windows Mobile powered smartphones.
""In a highly sophisticated mobile market such as Japan, people are turning to powerful and intuitive mobile devices to stay competitive in the business world," said Ted Matsumoto, executive vice president of technology and chief strategy officer at SoftBank. ""We continue to work with Microsoft to equip SoftBank Mobile customers with the most cutting-edge tools in mobile technology and are excited that they will be able to experience the enhanced features and functionality of Windows Mobile 6 on two new smart devices from Toshiba and HTC."

As an Amazon Associate I earn from qualifying purchases.