Windows Mobile Device Center update now available – Version 6.1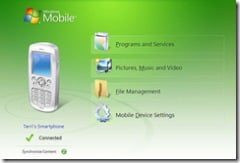 For those of you running Vista, and have a Windows Mobile device that is of OS version 2003 and greater, you need to head on over for the new version 6.1 of the WMDC. Looks like the WM6 bugs have been squashed as well!! Updates include:
Key updates in Windows Mobile Device Center 6.1 include:
Windows Mobile 6 feature support

Information Rights Management activation – Automatically configure the Windows Mobile 6 device to open IRM-protected documents and files

HTML mail — Set up your Windows Mobile 6 device to sync HTML-formatted mail

Certificate Enrollment – Acquire certificates through the PC the Windows Mobile 6 device is currently connected to

Allow data connections on the Windows Mobile 6 device when connected to the PC

File synchronization for smartphones — Synchronize files with your Windows Mobile 6 devices, including both touch screen and non-touch screen devices

Automatic device authentication – Connect the Windows Mobile device to the PC without the need to enter the device-lock PIN every time upon connect

Product Registration – Register your Windows Mobile device and get connected to information and offers available for your device

As an Amazon Associate I earn from qualifying purchases.