Windows Phone 7 Launch on Verizon Pushed Back To May?
While we had heard that the HTC Trophy and thus, Windows Phone 7 would be launching on Verizon at some point in April, it looks like the launch of the device and Microsoft's latest and greatest software has been pushed back to May.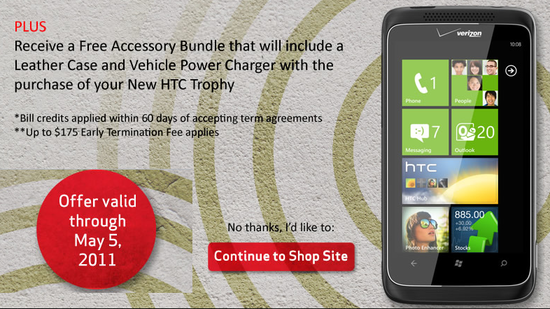 One quick look at the special offer that Verizon has made available to Microsoft employees for the HTC Trophy reveals that the offer's deadline has been pushed back from April 7th to May 5th. This doesn't necessarily mean that the Trophy will launch in May, but it's a pretty good indication there is another delay.
This strikes yet another blow to those hoping to get Windows Phone 7 on Big Red especially since it looked like a release was coming in the near future. Verizon's tests on the device were reportedly going well and the device even made an appearance on Big Red's website.
So, it looks like that April 15th release date that came from that leaked Verizon roadmap for the HTC Trophy probably won't happen. Not the first time that Windows Phone 7 has missed a release date.
(Via WPCentral)