Windows Phone 7 launches October 11th in New York
There have been plenty of rumors and plenty of speculation on when and where Windows Phone 7 will launch. To be honest, we know it's coming and the guess work has pretty much be removed with all these leaks. The hype of Windows Phone 7 has turned these dates and location leaks into pretty hot topics. Up until this point, they have all been loosely based on he said/she said accounts. Today, Engadget has something pretty solid and it includes something quite surprising considering some earlier misinformation.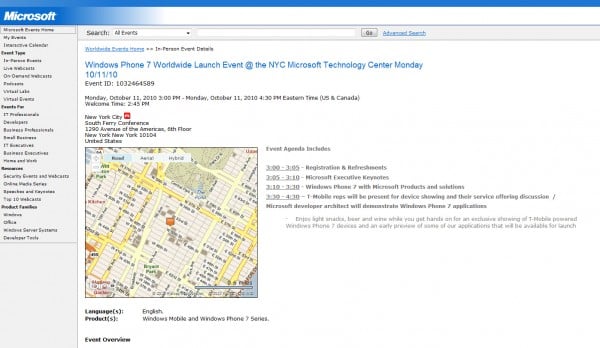 OK. We already knew there was an event in New York on the 11th. No surprise there, other than this link confirms the event. What is a surprise is that T-Mobile seems to be the star of the show instead of AT&T as we expected. I think the time line is still in line with the rumors, just the players are changing. I still expect to see the retail availability of Windows Phone 7 devices to happen in November as previously reported, but the announcement of the device lineups and partners (OEMs and Carriers) to happen on October 11th, 2010 with a few different events, including a big one in London.
UPDATE: I am not sure if it will be 2 different events in NYC, but Engadget has a different invite now. This info has Steve Ballmer and Ralph de le Vega of AT&T presenting. So, let's just say that both T-Mo and AT&T are showing handsets on October 11th, 2010 in NYC.