Windows Phone 7 Mango Restores State, Offers Instant Resume in Multitasking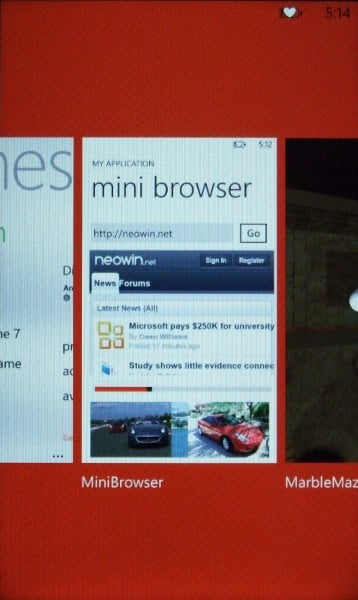 Developers who have access to Microsoft's Windows Phone 7 Mango software update are noticing some new multitasking features. Now, Windows Phone 7, which was criticized at the time of release for not coming with robust multitasking, can resume apps after you close them instantly. The OS, which was shown in a video by WMPU, highlights the fast and quick feature of instant resume, which allows a user to exit an app, and then jump back in where the state of the app (where you left off on the app) is not only saved, but allows you to get back to view the app instantly when you open it.
Another thing is that the instant resume feature will work for the five most recent apps that you have opened. When you open a sixth app and start to multitask, the very first app will close and will not appear in the multitasking menu–which you can see at around the 2:30 mark in the embedded YouTube video above.
In order to take advantage of instant resume, developers must code their app for Windows phone 7 Mango so they'll have to change some codes and submit that to Microsoft.

This article may contain affiliate links. Click here for more details.