Windows Phone 7 Weekend Wrap Up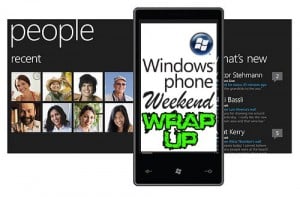 This weekend provided a nice bit of interesting Windows Phone 7 news. Nothing official really, but enough to give us all some more dates to speculate on. We have a couple dates and some early, apparently leaked, AT&T ads featuring an HTC phone.
The Dates in question are October 11th, October 21st, and November 8th. This is all too confusing at this point.
Neowin is reporting via anon sources that Microsoft is having  a Windows Phone 7 event in New York on October 11th. Engadget has confirmed a press event in London on October 11th. A US event (unconfirmed) and a European even (confirmed) on the same date? Seems a little off to me, but possible. Neowin says that Windows Phone 7 will hit the retail shelves on October 21st in the UK, France, Germany Italy and Spain, 10 days after the press event.
What about the US? Why would Microsoft launch in Europe 1st, then the US? No ideas here, but Paul Thurrott is saying that the US launch will be November 8th.
While I don't know anything about a European launch, I've been told by a very reliable source that the US launch date for Windows Phone is November 8.
I will be honest, I can't see Microsoft launching Windows Phone 7 in Europe 1st, but we'll soon find out. What I do know is that I am quite excited about the launch. I've had some great hand on time with WP7 and from what I've experienced, I am confident that I will be able to retire my iPhone. On launch, I expect T-Mobile and AT&T to offer various phones from LG, HTC, and Samsung. I have high hopes that there will be an HTC Slider on AT&T on day 1.
Speaking of AT&T, a couple of ads leaked out this weekend onto YouTube.
https://www.youtube.com/watch?v=HvV6_t3crlk&feature=player_embedded
Are the actors in the above video you? Really? I like this one a bunch. It's so accurate about today's society. A tad exaggerated, but too funny.
https://www.youtube.com/watch?v=dFAUTy4wizU&feature=player_embedded
This one hit the same point harder, but not as cute.
What do you think of these ads? Legit? What about the HTC Mondrian? That's a name we've not heard yet. It's most likely the code name for a phone we've already seen details leak about.
No matter when or where Windows Phone 7 launches, trust that I am excited and I'll definitely be on it for GBM!

As an Amazon Associate I earn from qualifying purchases.