Windows Phone 8.1 Concept Features Notification Hub
New fan-made concepts of an updated Windows Phone 8 operating system that includes a notification hub and styling upgrades could indicate where Microsoft might be taking the platform with its next major update codenamed "Blue".
The concepts, which were created by Yanko Andreev and featured on 1800PocketPC, are all about taking the design colors and aesthetics of Windows 8 and applying them where they make the most since in Windows Phone 8.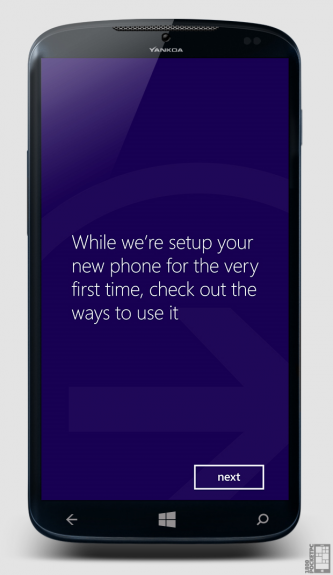 For example, while not completely different in its wording from the setup screen in Windows Phone 8, in these concepts the colors of Windows 8 have been brought in to make the phone operating system feel less dark.
In effort to surface more of the things users care about, Andreev also added even more Live Tile sizes and eliminated the margins on the left and right hand sides of the Start Screen. Additionally the Windows Phone app list, which is currently accessed by swiping to the left of the screen would get access to apps lists that the user can customize into individual groups.
In these concepts users would be greeted by a new device center. From there, important notifications like the device's battery life, brightness level, and time would be displayed on the tops and bottoms of the screen. The user would also be treated to a list of recent notifications from the applications they have installed. Currently, Windows Phone presents the user with three options to be informed of information by an application: updates on the lock screen, Live Tile notifications, and Toasts which appear at the top of the screen but will disappear after a short period. A unified area for notifications would make life much easier for Windows Phone users.
The concepts also include enhancements to Windows Phone's cloud syncing with SkyDrive. Syncing of music, Windows Store purchases, Internet Explorer favorites from the user's Windows 8 device to their Windows Phone device, automatically.
Read: Does Windows Blue = Windows + Windows Phone in One Software?
While not indicative of any official design plans Microsoft might have for Windows Phone, it is rumored that the company is attempting to meld the features of Windows Phone with the refreshed metro environment of Windows 8. According to its website, Microsoft does have plans to discuss what it's been working on in respect to Windows and Windows Phone at BUILD this June.